---
---
Hotel Al Vagon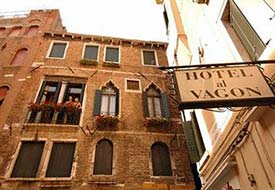 ABOVE: The Hotel Vagon's entrance is on the Campiello Riccardo Selvatico, just to the south of Campo dei Santi Apostoli and its canal. INSET BELOW: The Restaurant Al Vagon.
Category: One-star hotel.
Location: By the Santi Apostoli Canal, between the SS. Apostoli Church and the Rialto Bridge. Closest Alilaguna Airport Boat stop: Rialto.
Convenient when:

You're on a tight budget, you want to be smack in the middle of Venice's historic center, and you don't need to read the news headlines on your iPad while eating a buffet breakfast.
The Hotel Al Vagon is on the main walking route between Venice's Santa Lucia Railroad Station and the Piazza San Marco. (It's also practically next door to the three-star Hotel Antico Doge and a few minutes on foot from the Rialto Bridge.)
The hotel offers double, triple, and quad rooms--some with canal views--and rates aren't too painful by Venice standards. Caveats: Unlike most hotels in Venice, the Al Vagon doesn't supply breakfast, and Internet isn't available.
Check lowest available rates:
Aerial photos:
In the first satellite image, the Hotel Al Vagon is near the top of the map, just to the right of the vertical street that's slightly inland from the Grand Canal. The Rialto Bridge crosses the canal nearby, and the Piazza San Marco is at the bottom of the frame.

In the second photo (which was taken from the north) you can see the campo and church of SS. Apostoli in the foreground. The Hotel Al Vagon is just across the canal and to the left of the church tower. To reach the hotel's entrance, continue walking down the street to a small square (the Campiello Riccardo Selvatico) and look for the hotel sign.