---
---
Alloggi Barbaria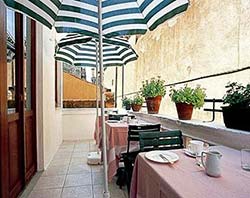 ABOVE: The Alloggi Barbaria's breakfast terrace.
Category: B&B.
Location: Near the Ospedale vaporetto landing in Castello. Closest Alilaguna Airport Boat stop: Fondamente Nuove.
Convenient when:
You're on a budget, you prefer a location on the Castello-San Marco side of the Grand Canal, and you're arriving early or departing late on the Venice airport boat.
The Alloggi Barbaria is a small inn just off the Fondamenta Nuove, the waterfront promenade on the north side of Venice's historic center. From the Alloggi, you can walk southwest toward the Piazza San Marco, the Rialto Bridge, and other major sights.
Prices are reasonable, breakfast is served on a terrace in summer, and Wi-Fi is free.
The Alloggi Barbari is also pet- and blogger-friendly: Pets are allowed on request at no extra charge, and Fausto--the hotel manager--is the longtime publisher of the illustrated Alloggi Barbaria Blog for Venetophiles.
Check lowest available rates:
Aerial photos:
In the top satellite image, the Alloggi Barbaria is on the upper right side of the frame, on the Calle delle Cappucchine (which Google has chosen to label "Sestiere Castello"). You can also see the Rialto Bridge crossing the Grand Canal and--near the bottom--the Piazza San Marco with its Basilica, Campanile, and Doge's Palace.

In the close-up photo, Venice's main ospedale or hospital faces the Fondamenta Nuove, the waterfront promenade that you'll walk along if you arrive by Alilaguna airport boat. The Alloggi Barbaria is in the street below the church near the bottom of the photograph. (For its own mysterious reasons, Google has incorrectly labeled the street "Fondamenta Nuove.")