---
---
Hotel Amadeus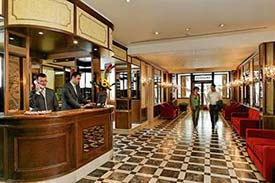 Category: Four-star hotel.
Location: Close to the Santa Lucia Railroad Station, on the main pedestrian route to Rialto and the Piazza San Marco.
Convenient when:
You're arriving or departing by train, you don't want to walk a long way with luggage, and you require first-class comforts.
The Amadeus is a long-established hotel with 63 rooms, a bar, a Japanese restaurant, a tree-shaded garden, and other four-star services (such as room service, laundry, and a business center). Wi-Fi is available, but you'll have to pay for it.
Note: Thanks to the new Calatrava Bridge, the Amadeus is also convenient if you're arriving or departing by ship at the Marittima cruise basin. (From the hotel, just walk past the railroad station, over the gently-curved bridge, and into the Piazzale Roma. There, you can hire a land taxi, catch a free shuttle bus to your ship is one is available, or take the People Mover to the Marittima piers.)
Check lowest available rates:
Aerial photos:
In the first image, you can see the Piazzale Roma (airport buses, land taxis, and People Mover) on the left, the railroad station just above, and the Rio Terà Lista di Spagna leading off toward the right of the picture. The Hotel Amadeus is slightly left of the grey triangle in the upper middle section of the photo.

In the second picture, the Hotel Amadeus is the yellow building on the north side of the Rio Terà Lista di Spagna, a few doors before the triangular campo and church of San Geremia.