---
---
Antica Locanda Sturion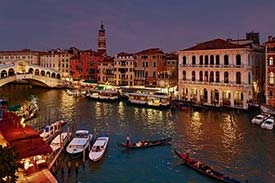 ABOVE: A twilight view of the Grand Canal and the Rialto Bridge from the hotel. INSET BELOW: The Antica Locanda Sturion's entrance is clearly marked with a hanging sign.
Category: Three-star hotel.
Location: Close to the Rialto Bridge in San Polo. Nearest Alilaguna Airport Boat stop: Rialto.
Convenient when:
You want a convenient base for sightseeing and shopping in Venice, with good access to public transportation.

The Antica Locanda Sturion is in a narrow, quiet street just off the Riva del Vin, the pedestrian promenade along the Grand Canal on the San Polo side of the Rialto Bridge. You can easily explore the San Polo, Santa Croce, and Dorsoduro side of the canal (including the Peggy Guggenheim Collection, the Galleria dell'Academia, and several other major art museums), or you can cross the Rialto Bridge and walk to the Piazza San Marco in about 20 minutes. (The Rialto vaporetto and airport-boat landings also are just across the bridge.)
The locanda itself has a long history as an inn. If you don't mind climbing a long staircase from the building entrance to the third floor, you'll find an appealing small hotel with 11 Venetian-style guest rooms (some offering spectacular canal views), free Internet, and a breakfast room that looks onto the Grand Canal.
Check lowest available rates:
Aerial photos:
In the first photo, you can see the Rialto Bridge and the Rialto Food Markets near the top of the frame. From the bridge, the waterfront promenade along the Grand Canal takes you to the Calle del Sturion and the Locanda.

The second photo is a close-up of the Riva del Vin. The Antica Locanda Sturion's entrance is just around the corner on the Calle del Sturion.