---
---
Hotel Antiche Figure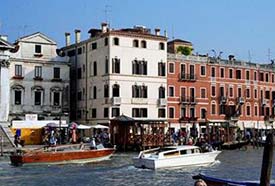 ABOVE: The Hotel Antiche Figure is on the Grand Canal, directly across from the railroad station (where this photo was taken). INSET BELOW: The lobby, the hotel's 15th Century building, and tables on the fondamenta next to the canal.
Category: 3-star hotel.
Location: On the Fondamenta S. Simeon Piccolo, facing the railway station across the Grand Canal.
Convenient when:

You're arriving or departing by train, or you're entering or leaving Venice at the Piazzale Roma (which also is just a short walk from the hotel).
The Hotel Antiche Figure has extremely high guest ratings from customers of our booking partners, and it certainly has a lot to offer: The hotel is convenient to transportation, rooms with canal views are available, the staff at the reception desk are friendly, and Internet access is free.

You'll also enjoy the setting: The Antiche Figure faces a fondamenta next to the Grand Canal next to the San Simeon Piccolo Church, and if you head inland via the street alongside the hotel, you can reach the Frari Church and other important sights just by following other tourists and locals.
Check lowest available rates:
Aerial photos: