---
---
Hotel Antico Doge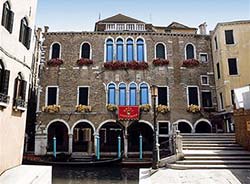 ABOVE: A view of the Hotel Antico Doge from the Campo SS. Apostoli. INSET BELOW: The hotel faces a canal that's used by gondolas and other boat traffic.
Category: Three-star hotel.
Location: In Cannaregio, on the Campo Santi Apostoli. Nearest Alilaguna Airport Boat stop: Rialto.
Convenient when:
You want a hotel with history on a square that's approximately midway between the Santa Lucia Railroad Station and the Piazza San Marco.

The former Palazzo del Doge Falier is old, even by Venice standards: It was built in the 13th Century, when Venetian Gothic was the style and McMansions were built with brick and marble. Inside the palazzo, the Hotel Antico Doge pays homage to its heritage with silk wall coverings and other traditional decor.
The hotel's location is at the junction of Strada Nova (a wide, busy middle-class shopping street) and the Rialto district. It offers easy access on foot to attractions on both sides of the Grand Canal, with one caveat: The Campo SS. Apostoli is on the main pedestrian route between the train station and San Marco, so the narrow streets between the hotel and the Piazza San Marco can be crowded at times. (This shouldn't be a problem for most visitors, but it's worth keeping in mind if you're traveling with a child's stroller or bulky luggage.)
Check lowest available rates:
Aerial photos:
In the first image, you can see the tower of the Chiesa di SS. Apostoli near the top of the frame. The Hotel Antico Doge faces the square below the church. Farther down, near the bottom of the picture, are the Rialto Bridge and Rialto Food Markets.

In the close-up image beneath, the Hotel Antico Doge is the palazzo right behind the church tower. (Look for the arcaded passage on the ground floor.)