---
---
Hotel Bartolomeo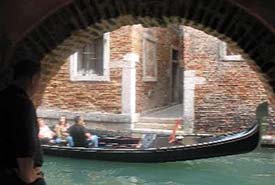 ABOVE: A canalside view near the Hotel Bartolomeo. INSET BELOW: The hotel's entrance in the Calle dell'Orso.
Category: Two-star hotel.
Location: In a street off the Campo San Bartolomeo, close to the Rialto Bridge. Nearest Alilaguna Airport Boat stop: Rialto.
Convenient when:
You want a hotel in the San Marco district that's convenient to every part of Venice's historic center, but you'd prefer to keep your costs to a minimum.
Our son and daughter-in-law spent a week at the Bartolomeo during their first trip to Venice as a couple, and they enjoyed the hotel. It was perfectly situated for their needs: within easy walking distance of the Piazza San Marco, St. Mark's Basilica, and other A-list attractions, but also a short walk (across the Rialto Bridge) from the Rialto food markets and the sestieri of Dorsoduro, San Polo, and Santa Croce.
The Hotel Bartolomeo has double, twin, and triple rooms, and breakfast normally is included in the rates. (Wi-Fi is available, but you'll have to pay.)
Tip: The Bartolomeo offers unusually good value for its neighborhood, and rooms sell out quickly. If you see a room available for the dates of your visit to Venice, don't wait too long to reserve it, or you may need to look for another hotel.
Check lowest available rates:
Aerial photos:
The first image shows the Rialto Bridge over the Grand Canal. The Hotel Bartolomeo is on the right side of the canal, just above and east of the Campo San Bartolomeo (the vertical strip of grey to the right of the words "Salizada Pio X").

The second photo is a close-up of the Campo San Bartolomeo, with the Rialto Bridge just visible on the left. To reach the Hotel Bartolomeo, walk to the north or top end of the campo and turn right. The hotel is in the Calle dell'Orso, as shown on this map.