---
---
Hotel Boscolo Venezia
(Hotel Boscolo dei Dogi)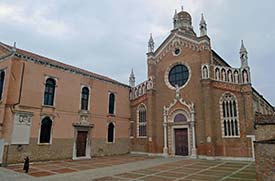 ABOVE: The Hotel Boscolo Venezia is just a few doors away from the Madonna dell'Orto Church. It's part of the Boscolo hotel group's "Autograph Collection."
Category: Five-star hotel.
Location: In the northern part of Cannaregio, just inland from the Venetian Lagoon. Closest Alilaguna Airport Boat stop: Madonna dell'Orto.
Convenient when:
You want a luxury hotel in a quiet location, preferably with quick access to or from Marco Polo Airport by public boat or water taxi.
The Boscolo Venezia , a.k.a. the Boscolo dei Dogi, is unusually easy to reach from Marco Polo Airport: On Alilaguna's Linea Arancio or Orange Line, it's normally the first boat stop from the airport and the last stop on the way to the airport. Travel time is only 30 to 35 minutes, compared to about 90 minutes between the airport and San Marco. And when you get off the Alilaguna boat at Madonna dell'Orto, you'll be within a few meters of the hotel.
The 76-room hotel is near the edge of Venice's historic center, in a quiet and peaceful neighborhood that's less touristed than most. A 10-minute will take you to the busy Strada Nova (the Cannaregio district's main shopping street), and you can reach the Piazza San Marco on foot in 20 to 30 minutes. If you'd rather not walk, you can take an ACTV water bus from the Madonna dell'Orto stop or use the hotel's free shuttle boat, which runs to and from the Piazza San Marco about four times a day.
About the hotel itself: The Boscolo Venezia is a traditional luxury hotel with a beautiful garden, a spa on the premises, and a pier on the lagoon where you can arrive or depart by water taxi. Wi-Fi is free to hotel guests.
Check lowest available rates:
Aerial photos:
The first image shows the Venice Railroad Station at the left and the Piazza San Marco at lower right, with the Grand Canal snaking through the city. The Hotel Boscolo Venezia is near the top of the photo, slightly to the right of the green rectangle along the water.

In the close-up photo, you can see the hotel and its garden near the lower left corner of the frame. (Look for the white building with a red awning facing a canal.) The Madonna dell'Orto Church is to the right of the hotel. In the top right corner is the Madonna dell'Orto vaporetto stop, which is served by Alilaguna airport boats and ACTV public water buses.