---
---
Hotel Bucintoro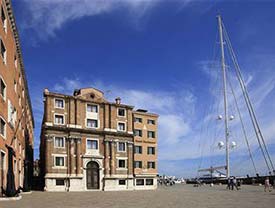 ABOVE: The Hotel Bucintoro (tan building on right) is next to the Campo San Biaggio and the Museo Storico Navale. INSET BELOW: The hotel's entrance and café are on the Riva San Biaggio, where yachts and other large boats are often moored.
Category: Four-star hotel.
Location: On the waterfront overlooking St. Mark's Basin, next to the Naval History Museum. Closest Alilaguna Airport Boat stop: Arsenale.
Convenient when:
You prefer an attractive, slightly upscale hotel that's close to San Marco, but just far enough away to avoid the tourist crowds.

The Hotel Bucintoro has a waterfront setting next to the Musco Storico Navale, and it's especially convenient if you're in Venice for the Biennale art exhibition. (The Biennale park is only a few minutes away on foot.) From your room overlooking St. Mark's Basin, you'll be able to see passing vaporetti, cruise ships, and the island church of San Giorgio Maggiore offshore.
Check lowest available rates:
Aerial photos:
In the top satellite image, the Hotel Bucintoro is toward the bottom right corner of the frame, behind the word "Riva." To reach the Piazza San Marco from the hotel, you cross the footbridge to the Riva di Cà di Dio and continue along the waterfront for five or 10 minutes. To reach the heart of the Castello district (which is one of Venice's least touristy areas), walk in the opposite direction--to the right of the photo--and head inland at the Via Giuseppe Garibaldi.

The second image shows the Hotel Bucintoro behind two rows of café tables. The large pink building to the hotel's left is the Naval History Museum.