---
---
Ca' Angeli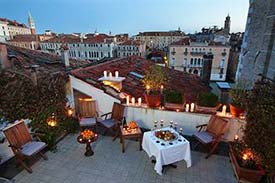 ABOVE: Candles on the Ca' Angeli roof terrace. INSET BELOW: The B&B on the Grand Canal, and a cat on a windowsill.
Category: Unrated (€€).
Location: In San Polo, on the Grand Canal. Nearest Alilaguna Airport Boat stop: Rialto.
Convenient when:
You're a fan of B&Bs and you want to be in a central location for sightseeing, but you prefer a hotel that's away from crowds.

On a scale of one to ten, Ca' Angeli's location deserves at least an eight: It's on the Grand Canal near one of our favorite squares in Venice, the Campo San Polo. The Rialto Bridge is only a few minutes away, and once you've crossed it, it's only a few more minutes (depending on pedestrian traffic) to the Piazza San Marco. Yet the hotel itself is conveniently off the main walking route, down a narrow street that reaches a dead end at the Canal Grande.

Ca' Angeli has only six rooms, which means you won't be sharing the premises with large tour groups. The best value for two people is the double room with terrace: The room itself is fairly small, but the terrace has teak furniture, a sun umbrella, and panoramic views of the Venice skyline.
Check lowest available rates:
Aerial photos:
In the top image, the Ca' Angeli is at the junction of the Grand Canal and a smaller canal, the Rio della Madonetta, just to the west of the Calle Tiepolo (see label on photo). You can see the Campo San Polo to the north and the Rialto Bridge to the east.

In the second photo, the Ca' Angeli is in the pinkish building with a green awaning near the bottom right corner of the frame. (The private terrace of the double room mentioned above is visible behind the tile roof.)