---
---
Ca' Doge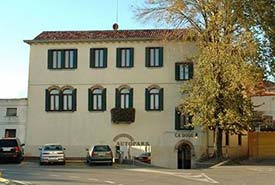 ABOVE: Parked cars at the Ca' Doge. INSET BELOW: The hotel entrance, which is clearly marked.
Category: Town House Suites 1st Category.
Location: Right on the Piazzale Roma.
Convenient when: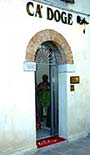 You've brought your car with you, you're returning a rental vehicle at the Piazzale Roma, or you're arriving or departing on a cruise ship at the Marittima basin.
The Ca' Doge is one of the few hotels or B&Bs in Venice that is actually at the Piazzale Roma, as opposed to nearby. You can park in the Autopark Doge (which has 24-hour video surveillance). Or, if you're headed for a cruise ship, you can cross the street to the People Mover, which takes about a minute and a half to reach the Marittima port entrance. (Land taxis to the Marittima and San Basilio piers are also nearby.)
The Piazzale Roma isn't the most scenic or romantic spot in Venice, but it's perfectly safe. The square--and the Ca' Doge--are worth considering if you're spending a night or two in Venice and your hotel needs are dictated by parking or cruise transportation.
Check lowest available rates:
Aerial photos:
In the first satellite image, you can see the Piazzale Roma as a grey spot near the middle of the photo. The Marittima cruise basin is on the left, and the historic center of Venice is on the right. Ca' Doge is at the bottom of the Piazzale Roma, below the word "Roma."

In the second photo, Ca' Doge is the tile-roofed building on the left, with cars parked behind. Airport-style People Mover trams to the Marittima cruise basin leave from a station next to the large parking garage on the right.