---
---
Hotel Ca' Pisani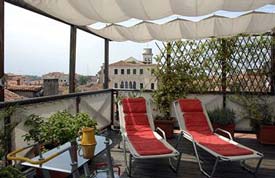 ABOVE: The altana (a Venetian word for "roof terrace") at the Ca' Pisani.
Category: Four-star hotel.
Location: In the heart of Dorsoduro, by the Gallerie dell'Accademia and the Accademia Bridge. Closest Alilaguna Airport Boat stop: Zattere.
Convenient when:
You want a stylish four-star boutique hotel away from the crowds, but near the important tourist sights.

The Ca' Pisani is the first "Design Hotel" in Venice. Although it occupies a 14th Century palazzo, the Art Deco-inspired interior is a recent addition, and much of the furniture dates to the 1930s and 1940s. (Other aspects of the hotel, such as individually-controlled air conditioning and free Wi-Fi, are thoroughly 21st Century.)
The 29-room hotel has a roof terrace where you can relax in nice weather, and the hotel's summertime wine & cheese bar--La Revista--serves drinks, snacks, and light meals inside or outdoors.
Note:
From the Hotel Ca' Pisani, it's only a two- or three-minute walk to the Accademia Bridge, which leads toward the Campo San Stefano, the Piazza San Marco, and the city's upscale shopping district. (The hotel itself is on a wide tree-lined pedestrian street, the Rio Terà Antonio Foscarini, that runs straight across Dorsoduro from the Grand Canal to the Giudecca Canal and the Zattere airport-boat landing.

Ca' Pisani is especially handy if you're arriving or departing on a ship at Marittima, the larger of Venice's two cruise terminals. Alilaguna's Blue Line boat stops at Zattere (a few blocks from the hotel) on its route between the Marittima piers and Venice's Marco Polo Airport.
Check lowest available rates:
Aerial photos:
In the first image, you can see the Accademia Bridge crossing the Grand Canal at the top of the frame. Just below the bridge is one of Venice's most important museums, the Gallerie dell'Accademia. The Hotel Ca' Pisani is immediately next to the museum, on a street that runs all the way to the Zattere and the Giudecca Canal. (At the bottom of the frame, you can see platforms for water buses and airport boats.)

The second photo is a close-up, with the Gallerie dell'Accademia barely visible on the right side of the frame. The Hotel Ca' Pisani is the palazzo next to the Gallerie. (It's the rose-colored building with three awnings above a central balcony.)