---
---
Hotel Canal Grande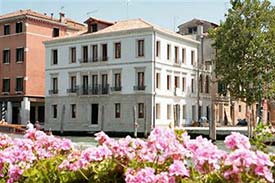 ABOVE: The Hotel Canal Grande, with the Campo San Simeon Grande alongside. (This picture was taken from the opposite bank of the Grand Canal.) INSET BELOW: The hotel lobby, and the palazzo's water entrance.
Category: Four-star hotel.
Location: On the Campo San Simeon Grande, two bridges and a few minutes from the Santa Lucia Railroad Station or the Piazzale Roma.
Convenient when:

You're looking for a small, attractive four-star hotel on a scenic square within easy walking distance of trains, taxis, airport buses, and the People Mover to the Marittima cruise terminals and the Tronchetto parking garage.

As you'll know if you've seen our pages about the Ca' Nigra Lagoon Resort and the Hotel Ai Due Fanali, we think the Campo San Simeon Grande (also called the Campo San Simeon Profeta) is one of the most delightful little squares in Venice. It's quiet and feels isolated from the main tourist routes, yet public transportation is only a short distance away. The campo even has park benches where you can sit and watch the boats past by while eating ice cream from Alaska (one of Venice's best gelaterie), which is located nearby.
The Hotel Canal Grande is one of three hotels on this cozy campo, and it's a worthy competitor to its neighbors: The hotel has 15 lushly-furnished double rooms and suites--all with free Wi-Fi--and some of the rooms face directly on the Grand Canal. The lobby, breakfast room, and bar are awash in marble and dark wood. If you're traveling to or from Venice Marco Polo Airport by water taxi, the boat can land directly at the hotel.
Finally, if acqua alta or "high water" occurs while you're in Venice, you needn't wait for the tide to subside: The hotel will provide you with rubber boots to wear while you go sightseeing.
Check lowest available rates:
Aerial photos:
The first satellite image shows the Piazzale Roma (lower left), the railroad station (top), and--at upper right--the Campo San Simeon Profeta (a.k.a. Campo San Simeon Grande). The Hotel Canal Grande is next to the canal, just inside the right-hand border of the frame.

In the close-up photo, the Hotel Canal Grande is the light-colored building near the lower left corner, facing the Grand Canal. (The word "Profeta" touches the hotel's roof in the picture.)