---
---
Hotel Carlton on the Grand Canal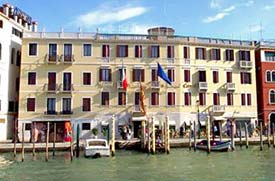 ABOVE: Most of the Carlton's rooms have views of the Grand Canal. INSET BELOW: Outdoor tables on the fondamenta side of the hotel.
Category: Four-star hotel.
Location: On the Grand Canal, across from the train station.
Convenient when:

You're arriving or departing by train at Santa Lucia Railway Station. (The hotel is also close to the Piazzale Roma, which has airport buses, land taxis, and the People Mover to the Marittima cruise terminals.)
The hotel boasts of its "hundred views on the Grand Canal," which is another way of saying that many of its 150 rooms have canal views. (Warning: If you're a light sleeper, you prefer a cheaper room away from the water traffic.)
Guest rooms at the Carlton on the Grand Canal are decorated in Venetian style, sometimes to the point of being gussied up with arches and columns that could be a hazard to sleepwalkers. Public rooms are both elegant and spacious, and there's a courtyard where breakfast is served in nice weather. The hotel also has a bar and a dining room with outdoor tables next to the canal.
Check lowest available rates:
Aerial photos:
The first satellite image shows the railroad station at the top, with the Scalzi Bridge leading across the Grand Canal to the fondamenta or waterfront promenade where the hotel is located. (The hotel is just to the right of the words "Sestiere Santa Croce" on the southeast side of the canal.) On the left, you'll see the Piazzale Roma, which is the city's gateway for buses, taxis, and cars. (Free port shuttles often run between the Piazzale Roma and cruise ships; the People Mover tram departs from a station between the garages near the left edge of the photo.)

In the second photo, which was taken from above the station, you can see the Ponte degli Scalzi (a.k.a. the Scalzi Bridge) and the Grand Canal. The Hotel Carlton is behind the words "Simeon Piccolo" near the top of the frame.