---
---
Hotel Casa Boccassini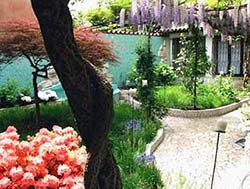 ABOVE: The Casa Boccassini's garden. INSET BELOW: A guest room with vintage furniture.
Category: One-star hotel.
Location: Just south of the Fondamenta Nuove, near Venice's northern waterfront. Closest Alilaguna Airport Boat stop: Fondamenta Nuove.
Convenient when:
You're on a tight budget, and you're arriving and departing from Venice's Marco Polo Airport.
The Hotel Casa Boccassini is especially convenient when you're arriving late or have an early-morning flight: It's a quick, short walk from the Fondamenta Nuove boat landing, which is only 37 minutes from the airport by Alilaguna water bus (compared to nearly an hour from Rialto and 1¼ hours from the San Marco stop).

The hotel itself is a family-run establishment with 10 attractive rooms, some of which are large enough for families of four. In nice weather, you can have your breakfast outdoors in the garden.
Please note:
Standard rooms have air conditioning or a fan (note the italics if you're visiting in summer), while superior rooms have air conditioning and garden views.

A few rooms have shared bathrooms. If you want private facilities, check the rate details before you book.

Breakfast isn't included, so--unless you want to pay extra for the convenience of eating in the hotel--you may prefer to get something at the local supermarket or the nearest bar. (Tip: In bars, you'll save money by standing at the counter instead of being served at a table.)
Check lowest available rates:
Aerial photos:
In the first satellite image, the Hotel Casa Boccassini is near the junction of Calle dei Volti and Calle dei Cordoni, south of the Fondamenta Nuove waterbus station (blue boat symbol at the top of the frame). In the lower left corner of the image, you can see the Rialto Bridge.

The close-up aerial photo was taken from the north. From the Fondamenta Nuove boat landing, you walk inland a block, cut left to the Calle dei Cardoni, and walk inland a short distance to the hotel (which is on the Calle dei Voito, near the top of the picture).