---
---
Hotel Cavalletto e Doge Orseolo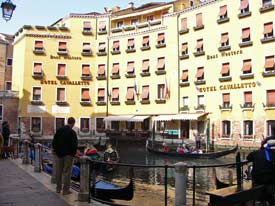 ABOVE: An uncharacteristically quiet day in the Bacino Orseolo. INSET BELOW: Lean out of a ground-floor window, and you may find yourself rubbing noses with a gondolier.
Category: Four-star hotel.
Location: Overlooking a gondola basin just behind the Piazza San Marco. Closest Alilaguna Airport Boat stop: San Marco.
Convenient when:
You want a comfortable, well-equipped four-star hotel within a minute's walk of the Piazza San Marco.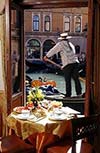 The Best Western Hotel Cavalletto e Doge Orseolo faces the Bacino Orseolo, immediately behind the piazza. The basin is one of Venice's busiest staging areas for gondola rides: It's filled with boat traffic during the day, and at night, the rows of moored and covered gondolas add to the basin's atmosphere.
The hotel itself is said to be one of Venice's oldest, and it has welcomed many famous guests over the centuries. Today, you're more likely to meet fellow tourists than latter-day versions of Winston Churchill or Richard Strauss, but if you do see a celebrity, you can use the hotel's free Wi-Fi to alert your friends on Facebook.
Check lowest available rates:
Aerial photos:
The upper photo shows the bacino and the hotel near the left, next to the label "Fondamenta Orseolo." The hotel is the dark yellow building facing the water; just to the south, through a passage, is the Piazza San Marco.

The second photo is a close-up of the Hotel Cavalletto d Doge Orseolo (the building with the window awnings) and the boat basin. The Hard Rock Café Venice (yes, there is one) is across the bacino from the hotel.