---
---
Hotel Falier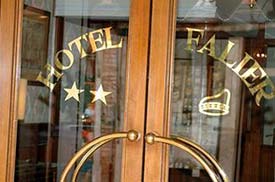 ABOVE: The Falier's wooden doors, with gold lettering on the glass, give a hint of the decor in the lobby. INSET BELOW: A view of the façade, and the hotel entrance.
Category: Two-star hotel.
Location: Close to a canal on the Salizzada San Pantalon, a few minutes east of the Piazzale Roma.
Convenient when: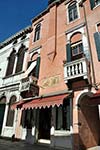 You're on a budget, you're arriving or departing by airport bus or train, and you like the idea of a small hotel with a long-standing reputation for value and service.
The Falier is no more than a seven- to 10-minute walk from the Piazzale Roma, or slightly longer if you're walking from the Santa Lucia Railroad Station.

From the hotel, you it's only a few more minutes to the Campo Santa Margherita and the Frari Church. (Allow 20 or 30 minutes to reach the Piazza San Marco via the Accademia Bridge, assuming that you follow the signs and don't get lost.)
The hotel has 19 single, double, and twin rooms, all with air conditioning, private bathrooms, and free Wi-Fi. When the weather is nice, you can have breakfast in the Falier's private garden.
Check lowest available rates:
Aerial photos:
The first image shows the Piazzale Roma (where airport buses and land taxis arrive and depart) and the railroad station (top). Look for the Fondamenta del Gafaro in the bottom right corner: The Hotel Falier is on the opposite side of the canal, near the edge of the picture.

In the second photo, the Hotel Falier is on the far right side of the frame. (It's the narrow rose-colored building next to the white palazzo.)