---
---
Hotel Florida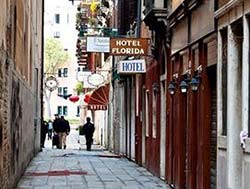 ABOVE: The Hotel Florida is on the Calle Priuli dei Cavalletti, close to Santa Lucia Station. INSET BELOW: The hotel's entrance.
Category: Two-star hotel.
Location: On a quiet side street near the railroad station.
Convenient when:
You're arriving or departing by train, you're staying only a night or two, and you don't want to spend a lot of money on a hotel.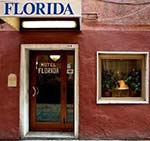 The Hotel Florida is in the Calle Priuli dei Cavalletti, two streets away from Santa Lucia Railroad Station. (It's also easy to reach from the Piazzale Roma via the Calatrava Bridge. Just cross the bridge, walk past the station, and turn at the second corner.)
The hotel has one-, two-, three-, and four-person rooms, nearly all with private bathrooms. Rates include a simple Continental breakfast and unlimited Wi-Fi throughout the hotel. (If you don't have a computer or mobile device, you can use the Internet terminal in the lobby for up to 30 minutes without charge.)
Check lowest available rates:
Aerial photos:
The top image shows the Piazzale Roma at lower left, the railroad station dominating the center of the photo, and the Calle Priuli dei Cavalletti just off the main pedestrian thoroughfare above the station. (If you continue walking toward the northeast on the Rio Terà Lista di Spagna, you'll reach the Piazza San Marco in about half an hour.)

In the close-up photo, you can see the Calle Priuli dei Cavalletti on the left, right after the Scalzi Bridge. The Hotel Florida is down this street, with a sign above the entrance.