---
---
Hotel Gabrielli Sandwirth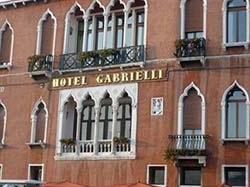 ABOVE: The Gabrielli Sandwirth's Venezian Byzantine façade. INSET BELOW: The palazzo courtyard, and a water taxi arriving at the hotel.
Category: Four-star hotel.
Location: On the Riva degli Schiavoni, facing boat piers and St. Mark's Basin. Closest Alilaguna Airport Boat stop: San Zaccaria.
Convenient when:
You want a waterfront room in a 14th Century palace near the Piazza San Marco, but you aren't ostentatious enough to spring for a five-star hotel.

If you're looking for an historic property with authentic Venetian atmosphere, the Hotel Gabrielli Sandwirth fits the bill. From the moment you behold the palazzo's Venetian-Byzantine façade, the ornate lobby, and the stone-paved courtyard with its ancient wellhead, you'll think you're on a movie set--especially if you've seen Blame It on the Bellboy, a 1992 comedy that starred Dudley Moore, Richard Griffiths, Bronson Pinchot, and the Gabrielli Sandwirth.

Upstairs, the guest rooms maintain the traditional theme, with plenty of dark woods and Murano glass light fixtures to remind you that the Gabrielli has been serving visitors to Venice since 1856.
Later, when you're in a mood for fresh air, you can have a drink on the Riva, enjoy views from the roof terrace, or explore the hotel's surprisingly large garden. (On warm days, breakfast is served outdoors in the courtyard.)
Compare rates:
Aerial photos:
The top satellite image shows the Doge's Palace (next to the Piazza San Marco) on the left and the Hotel Gabrielli Sandwirth in the lower right corner of the frame.

In the close-up photo, the Gabrielli Sandwirth is the historic palazzo with the orange umbrellas, behind the words "Riva degli Schiavoni."