---
---
Hotel Gardena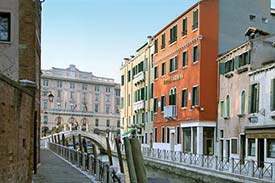 ABOVE: The Hotel Gardena is the red building on the Tolentini Canal. (Airport and cruise-ship transportation are a short walk away, to the left of the bridge in the photo.)
Category: Three-star hotel.
Location: On a pretty neighborhood canal near the Piazzale Roma.
Convenient when:
You're arriving or departing by cruise ship, airport bus, or land taxi, and you want a three-star hotel that's close to the Piazzale Roma but away from buses and cars.
The Hotel Gardena really does have a nice location if you're looking for a balance between convenience and atmosphere:
In the Piazzale Roma, walk to the northwest corner (by the Hotel Santa Chiara), cross the small bridge to the Fondamenta della Croce, and continue over the next small bridge to the Fondamenta dei Tolentini. Turn right again, and you'll quickly reach the hotel. Total walking time: three to five minutes, unless you stop to enjoy the passing boat traffic.
The Gardena has 19 single, double, and triple rooms, along with a cheerful frescoed lobby and a bar that's open from late morning to midnight. In good weather, you can enjoy the hotel's buffet breakfast in the courtyard.
Note: There are many cafés, restaurants, and shops in the neighborhood, and the hotel is especially convenient for parents of students at IUAV, Venice's university of architecture and design, which is close by.
Check lowest available rates:
Aerial photos:
In the first photo, you can see the walking route from the Piazzale Roma to the hotel: Go to the upper right corner of the square (just to the right of the Calatrava Bridge to the Railroad Station), cross the small bridge, and walk to the Fondamenta dei Tolentini, on the right side of the frame. The hotel is just to your right after the second bridge.

In the second photo, the Hotel Gardena is the rose-colored building just to the right of the corner building on the Fondamenta dei Tolentini, a sidewalk that runs along the Tolentini Canal. From the hotel, it's only a short walk to the Frari Church, the Campo Santa Margherita, and other attractions.