---
---
Hotel Giorgione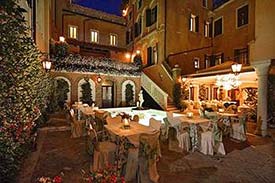 ABOVE: The Hotel Giorgione's courtyard. INSET BELOW: An exterior view of the hotel, and its distinctive G-shaped hanging sign.
Category: Four-star hotel.
Location: In Cannaregio, a few blocks north of the Campo SS. Apostoli. Closest Alilaguna Airport Boat stop: Fondamenta Nuove.
Convenient when:

You aren't traveling with heavy luggage, or you're going to and from the airport by water taxi.
The Hotel Giorgione might look out of the way on a map if you're new to Venice, but its location is surprisingly convenient for sightseeing: From its location near the eastern border of the Cannaregio district, you can easily reach the Piazza San Marco without fighting the crowds. The Rialto Bridge isn't far away, either: Just head south to the Campo SS. Apostoli, turn left, and follow the crowd for several blocks.

The hotel itself has a lot going for it, too: It's loaded with traditional Venetian atmosphere, you can have breakfast in the large courtyard during nice weather, and the reception staff are both helpful and kind.
Check lowest available rates:
Aerial photos:
The top satellite image shows the Hotel Giorgione in relation to the SS. Apostoli Church (look for the tall tower in the upper left quadrant) and the Rialto Bridge (bottom left).

The second photo is a close-up of the Hotel Giorgione and immediate surroundings. The hotel is two streets up from the church and east of the "r" in "Salizada del Pistor." (Look for the building with an irregular-shaped courtyard and a small roof terrace.)