---
---
Hilton Molino Stucky Venice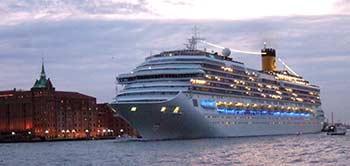 ABOVE: A Costa ship passes the Hilton Molino Stucky in early evening. INSET BELOW: Architectural detail from the restored flour mill.
Category: Five-star hotel.
Location: On the island of La Giudecca, across from the San Basilio cruise pier. Closest Alilaguna Airport Boat stop: Giudecca (by the hotel).
Convenient when:

You're cruising from the Marittima ship basin, or you're visiting Venice in the summer and want to soak in a rooftop pool after a long day of sightseeing.
As the words "rooftop pool" suggest, the Hilton Molino Stucky is a full-service hotel for well-heeled visitors--Americans in particular--who want familiar comforts and conveniences. The hotel, which occupies one wing of a restored flour mill, has a wide range of rooms and suites, all with coffee makers (something that you won't find in the typical italian hotel). Other amenities include multiple restaurants and bars, a spa, and a free shuttle boat to the Zattere and San Zaccaria (next to the Piazza San Marco).
For more information on getting to or from the hotel, see our Hilton Molino Stucky transportation article (which has practical advice for both airline and cruise passengers).
Check lowest available rates:
Aerial photos:
In the top photo, the Hilton Molino Stucky faces the Giudecca Canal near the bottom right corner of the image. The San Basilio cruise terminal for small- to mid-size ships is directly across from the hotel, while the main Marittima cruise basin is at upper left. (The Alilaguna Blue Line airport boat runs from the hotel to the Marittima piers.)

The second photo is a close-up of the Molino Stucky, which was a derelict flour mill until it was restored a few years ago. The Hilton occupies the wing with the copper-clad steeple (you can see the rooftop pool just behind the tower), along with some of the buildings behind. The rest of the molino consists of luxury apartments.