---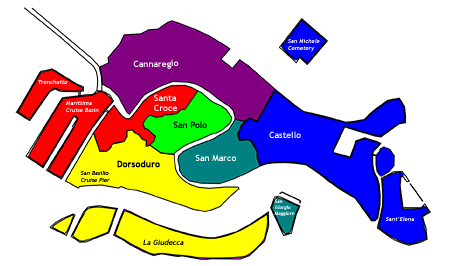 ---
Aerial Venice Hotels
Our all-new "Aerial Venice Hotels" section is an extension of Aerial Venice, which lets you explore Venice from the air before your visit. We recommend using these pages in combination with our Hotel Recommendations by Area.
In this section of Venice for Visitors, hotels are listed by sestiere (district) and category or star rating. To start searching for hotels, click the links in the navigation table below.
Please note:
This new collection of hotel pages is a work in progress. If you don't see a hotel that interests you, please check back in another few days or weeks. (We'll be adding many more hotels in the near future.)

We've avoided the use of markers on the satellite-photo and aerial maps, partly to avoid clutter and also because--like Google's labels--they're often placed in the wrong locations. We prefer to tell you what to look for, so you won't be misled by computer-generated mapping errors.
Aerial Venice Hotel Pages by sestieri (districts):
---
---
Unlabeled map of Venice's sestieri copyright © Giovanni Fasano. Licensed under Creative Commons Attribution-SharAlike 3.0 Unported (CC BY-SA 3.0). See source page for terms of use.