---
---
Hotel La Calcina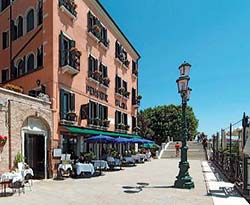 ABOVE: The Hotel La Calcina is on a wide pedestrian promenade. INSET BELOW: The original name is still on the façade, and the hotel has a restaurant terrace on the Giudecca Canal.
Category: Three-star hotel.
Location: Directly on the Zattere, facing the Giudecca Canal. Closest Alilaguna Airport Boat stop: Zattere.
Convenient when:

You want a waterfront hotel but can't afford Riva degli Schiavoni rates, or you need to be within walking distance of the San Basilio cruise pier.
The Hotel La Calcina ("The Lime House," named after a former lime works on the site) has been welcoming travelers for a long time: The British author John Ruskin stayed in the Pensione La Calcinia in 1876, and a café on the site catered to a trendy crowd a century before Ruskin arrived on the scene.

Today, the Pensione--now a three-star hotel--caters to hardcore Venetophiles and others who like modern comforts served up with a side dish of tradition. The 29 rooms have an atmosphere that's historic without being precious (which is nice to know if your tastes run more to mid-19th Century simplicity than to Baroque glitz or Byzantine bling).
Breakfast is served on a garden terrace facing the Giudecca Canal in good weather, and the restaurant will serve you dinner on the roof terrace if you want a view with your vittles.
Check lowest available rates:
Aerial photos:
In the top image, you can see the Piazza San Marco near the right side of the frame and the Ponte dell'Accademia, or Accademia Bridge, leading across the Grand Canal to the sestiere of Dorsoduro. The Hotel La Calcina is near the bottom of the photo, behind the small white rectangle to the right of the blue-and-white symbol for the Zattere waterbus stop.

In the second photo, look for the Hotel La Calcina at bottom right, behind the white restaurant terrace and green awning on the waterfront. (You'll notice that the hotel is close to the Accademia Bridge and San Marco. To reach the San Basilio cruise terminal from the hotel, simply walk west until you reach the pier. The pedestrian promenade is level and wide, though you'll have to cross two small bridges on your way to the ship.)
Note: If the Hotel La Calcina is full, or if you're looking for something cheaper and don't mind sharing a bathroom, try the two-star Hotel Pensione Seguso next door.