---
---
Locanda del Ghetto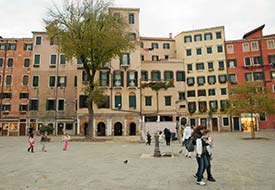 PHOTOS: The Locanda del Ghetto is on the Jewish Ghetto's main campo or square.
Category: Unrated.
Location: On the Campo del Ghetto Nuovo, beneath the Schola Italiana synagogue.
Convenient when:

You're interested in Jewish history, or you need a hotel that serves a kosher breakfast.
The Locanda del Ghetto occupies a 15th Century building with a synagogue on top. Rooms include doubles, triples, and junior suites.
For more about the Ghetto, its history, and what to see, read our four-page Venice Ghetto article and see our Aerial Venice: Ghetto page.
Check lowest available rates:
Aerial photos:
In the top image, you can see the Campo del Ghetto Nuovo near the upper-right corner ofthe frame. The bridge near the bottom of the picture is the Ponte delle Guglie, which crosses the Cannaregio Canal. The Santa Lucia Railroad Station is slightly to the left, out of the frame.

In the second photo, the Locanda del Ghetto is behind the tile-roofed portico just to the left of the umbrellas on the square.