---
---
Locanda Fiorita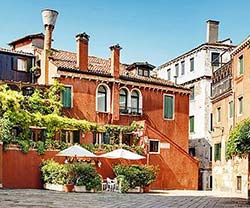 ABOVE: The Locanda Fiorita is the red building on the square. INSET BELOW: Looking out from the inn.
Category: One-star hotel.
Location: In the Campiello Nuovo, just north of the Campo San Stefano in San Marco. Closest Alilaguna Airport Boat stop: San Marco.
Convenient when:

You want to stay in San Marco, but you're on a tight budget.
The Locanda Fiorita is a remarkable value for its neighborhood: It offers a prime location, air conditioning, outdoor tables for breakfast in good weather, and free Wi-Fi--all at competitive rates.
Check lowest available rates:
Aerial photos:
In the first image below, the Locanda Fiorita is on a tiny square near the top right section of the picture, just west of the Chiesa di Santo Stefano. To the south, you can see the Campo San Stefano and the Accademia Bridge over the Grand Canal.

The second photo was taken from the north, looking south. The Locanda Fiorita is the red building with a vine-covered terrace near the bottom of the picture, behind the rectangular white umbrellas. The larger square is the northern part of the Campo San Stefano.