---
---
Hotel Locanda Ovidius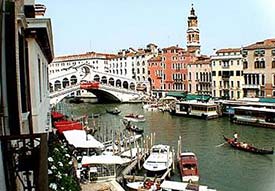 ABOVE: A view from the Hotel Locanda Ovidius. INSET BELOW: The hotel's setting on the Grand Canal.
Category: Three-star hotel.
Location: In San Polo, by the Rialto Bridge. Closest Alilaguna Airport Boat stop: Rialto.
Convenient when:

You're looking for a smoke-free hotel on the Grand Canal, in the heart of Venice.
The Hotel Locanda Ovidius occupies two floors of a restored historic building at the corner of Calle de Sturion and the Riva del Vin, alongside the Grand Canal just to your left after you've crossed the Rialto Bridge from the Rialto vaporetto or airport-boat stop. The decor is 18th Century, but the hotel has the usual modern conveniences--including an elevator. Other amenities include a lounge on each floor, a canalside breakfast room, and two balconies where guests can watch the passing boat traffic from above.
Check lowest available rates:
Aerial photos:
In the upper picture, you can see the Rialto Bridge and the Rialto Food Markets (near the bottom of the photo) with the Riva del Vin running along the canal to the left of the bridge. The Hotel Locanda Ovidius is at the corner of the Riva del Vin and the Calle del Sturion.

The lower photo shows a slightly different view, with the Hotel Locanda Ovidius near the left side of the image behind the words "Sestiere San Polo."