---
---
Hotel Marconi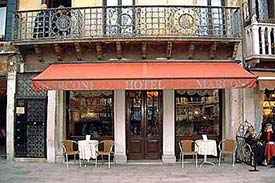 ABOVE: The Hotel Marconi is on the Riva del Vin, facing the Grand Canal. INSET BELOW: A wider view of the hotel and its location.
Category: Three-star hotel.
Location: Next to the Rialto Bridge, on the San Polo side of the Grand Canal. Closest Alilaguna Airport Boat stop: Rialto.
Convenient when:

You want a moderately-priced hotel by the Rialto Bridge, facing the Grand Canal.
As a central starting point for exploring Venice, the Marconi is hard to beat: As you leave the 16h Century palazzo facing the Grand Canal, you can head inland to Dorsoduro, San Polo, or Santa Croce, or you can walk across the Rialto Bridge for shopping and sightseeing in Cannaregio, San Marco, and Castello. No point in Venice's historic center is more than 20 to 30 minutes away on foot, and the Rialto platforms of ACTV (Venice's vaporetto or waterbus service) and Alilaguna (airport boats) are directly across the canal from the hotel via the Rialto Bridge.
Check lowest available rates:
Aerial photos:
The first image shows the Hotel Marconi's location in relation to its surroundings. The hotel is behind the words "Riva del Vin," to the left of the Rialto Bridge on the San Polo (left) side of the Grand Canal.

In the close-up photo, the Hotel Marconi is the building with the pale orange awning in the left third of the frame. The Rialto Bridge is only a few meters from the hotel. (The dark red umbrellas along the water cover the Riva's outdoor restaurant terraces, which are open year-round.)