---
---
Hotel Metropole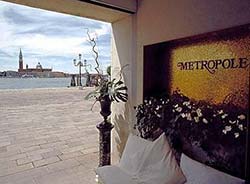 ABOVE: A view of the island church of San Giorgio Maggiore from the Hotel Metropole. INSET BELOW: A table on a terrace.
Category: Five-star luxury hotel.
Location: On the Riva degli Schiavoni, just above the Piazza San Marco overlooking St. Mark's Basin. Closest Alilaguna Airport Boat stop: San Zaccaria.
Convenient when:

You want a deluxe hotel on the Venice waterfront, but the Danieli seems a bit too obvious or overpriced.
The Hotel Metropole is about 1/3 km from the Piazza San Marco, on the waterfront overlooking the Riva degli Schiavoni waterfront near (but not immediately behind) the San Zaccaria and Pietà waterbus stops. The public rooms and guestrooms are furnished in traditional style, with period pieces and collections of antique objets d'art in the lobby to remind you that you're a long way from the Omaha Hilton. Other amenities include a "citrus garden" with palm trees and a Michelin-starred restaurant.
Check lowest available rates:
Aerial photos:
In the first image, the Hotel Metropole is near the right side of the frame, just before the last bridge. The Piazza San Marco, St. Mark's Basilica, and the Doge's Palace are about 350 meters to the left of the hotel.

In the close-up photo, the Metropole is in the center, just to the right of the Santa Maria della Pietà (or della Visitazione) church.