---
---
Hotel Orion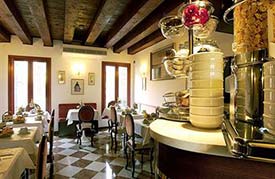 ABOVE: Breakfast at the Hotel Orion. INSET BELOW: A booth with windows and a view.
Category: Two-star hotel.
Location: Midway between the Piazza San Marco and the Rialto Bridge. Closest Alilaguna Airport Boat stop: San Marco or San Zaccaria.
Convenient when: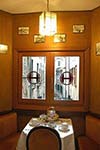 You want a comfortable hotel in a central (and busy) location, but you don't want to spend too much money.
For value, the Hotel Orion is hard to beat--at least in the pricey San Marco district. It's a minute or two from the Piazza, the understated Venetian decor runs to beamed ceilings and Murano glass fixtures, the nightly rates are reasonable, and--if you're lucky--you might get a room with a view. (There's even a two-person apartment with a kitchenette, which is worth considering if you want to save money on meals.)
On the downside, there's no elevator, so the Orion shouldn't be your first choice if you're a candidate for knee replacement.
Check lowest available rates:
Aerial photos:
In the top photo, you can see the Piazza San Marco and the Doge's Palace along the waterfront with the Zaccaria vaporetto and airport-boat piers in the lower right corner. At upper left is the Rialto Bridge. The Hotel Orion is a couple of blocks above the Basilica di San Marco in the street called "Spadaria."

The second picture shows the walking route from the Zaccaria boat stop to the hotel: Cross the Ponte della Paglia (the bridge near the bottom of the frame), turn right into the square, and walk past St. Mark's Basilica to Calle Spadaria, which faces the north side of the church near the lion statue. The hotel is just down the street.