---
---
Hotel Paganelli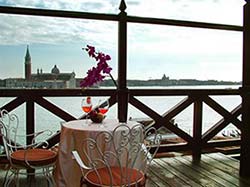 ABOVE: A view of St. Mark's Basin from the Hotel Paganelli's altana, or roof terrace. BELOW: The hotel's entrance, and another rooftop view.
Category: Three-star hotel.
Location: On the Riva degli Schiavoni, the waterfront promenade that runs eastward from the Piazza San Marco and the Doge's Palace. Closest Alilaguna Airport Boat stop: San Zaccaria.
Convenient when:

You want a hotel facing St. Mark's Basin, but your budget runs more to prosecco than to vintage Champagne.
The Hotel Paganelli's main building is just a few minutes from the Piazza San Marco, the Basilica, and the Doge's Palace on foot. The waterbus piers of San Zaccaria and Pietà are in front of the hotel.

The Paganelli also has an annex in the Campo San Zaccaria, a pretty little square that's even closer to the Piazza San Marco but lacks waterfront views. Guests in both locations have access to the main building's roof terrace, and free Wi-Fi is available in all public areas and guest rooms.
Check lowest available rates:
Aerial photos:
In the first image, the Paganelli's main building is on the far right side of the waterfront promenade. The Campo San Zaccaria (where the hotel's annex is located) is toward the left and inland, by the San Zaccaria Church.

The second photo shows a close-up of the hotel's main building, which is the cream-colored façade on the right side of the footbridge.