---
---
Hotel Pausania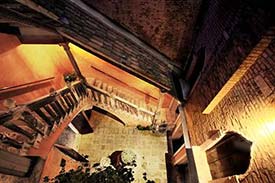 ABOVE: The hotel's ancient courtyard at night. INSET: The Venetian Gothic façade, another view of the courtyard, and the Pausania's entrance on the Fondamenta Gerardini.
Category: Three-star hotel.
Location: Facing a canal just west of the Campo San Barnaba in Dorsoduro. Closest Alilaguna Airport Boat stop: Zattere (though we'd advise walking to the hotel in about 20 minutes from the Piazzale Roma).
Convenient when:

You're departing or arriving by ship at the San Basilio cruise pier, or you want a quiet location near the main pedestrian route from the Rialto Bridge to the Accademia Bridge and San Marco.

The Hotel Pausania is located on the Fondamenta Gerardini, a short distance from the former Church of San Barnaba on the campo of the same name. (The church was featured in the movie Indiana Jones and the Last Crusade, and the adjacent canal was where Katherine Hepburn took an involuntary swim in the film Summertime.)

The hotel is housed in a Venetian Gothic palazzo with all the trimmings that you'd expect: a wellhead, a courtyard with a stone staircase, and plenty of restored architectural details. It's a delightful building, and if you're looking for authentic Venetian atmosphere, the Hotel Pausania won't disappoint you.
Rooms range from singles to quads, with breakfast included. (In good weather, the buffet breakfast is served on a terrace overlooking the hotel garden.)
Check lowest available rates:
Aerial photos:
The first satellite image shows the San Basilio cruise terminal and pier at lower left. Just inland and to the right, you'll see a canal above the street that's labeled "Calle Lunga de San Barnaba." The Hotel Pausania is on the south side of that canal, below the the Campo Santa Margherita (the patch of grey to the left of "Universita Ca' Foscari di Venezia").

In the second photo, which was taken from the north, you can see the Hotel Pausania in the upper left corner of the frame. (It's the small Venetian Gothic palazzo with four tall arched windows on the upper floor.) The Campo Santa Margherita is at lower left, and the Carmini Church faces the square at lower right. (
For better views of the hotel, zoom in by double-clicking with your mouse.
Tip: Getting from the Hotel Pausania to the San Basilio cruise terminal is easy. Just cross the bridge closest to the hotel, walk past the Carmini Church, turn left at the square, and follow the fondamenta or canalside pavement to San Basilio. The walk takes only a few minutes, with two small bridges along the way.