---
---
Hotel Rialto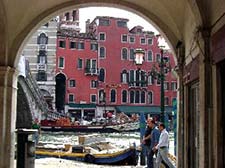 ABOVE: The Hotel Rialto, viewed from the San Polo side of the Grand Canal. INSET BELOW: The hotel's location next to the Rialto Bridge, and the open-air restaurant facing the water.
Category: Four-star hotel.
Location: At the foot of the Rialto Bridge, on the San Marco side of the Grand Canal. Closest Alilaguna Airport Boat stop: Rialto.
Convenient when:

You want a first-class hotel in Venice's most central location, with immediate access to water buses and major walking routes.
For sightseeing convenience, the Hotel Rialto scores 10 on a scale of 10: It's smack in the middle of Venice's historic center, next to the Rialto Bridge and just across the Grand Canal from the Rialto food markets.
ACTV water buses, the Alilaguna airport boat, and a water-taxi landing are close to the hotel entrance, and the Piazza San Marco is less than 500 meters (about a third of a mile) from the hotel via the city's lively--and often crowded--Mercerie or shopping streets.

But convenience isn't all the Hotel Rialto has to offer. It's a full-service four-star hotel with 79 rooms and suites, including 28 that have views of the Grand Canal. In good weather, breakfast is served on the hotel terrace, which faces the Rialto Bridge.
Note: The hotel restaurant is open only from April through October (not a major hardship, since there are plenty of restaurants and wine bars in the neighborhood), and the hotel didn't have free Wi-Fi the last time we checked.
Check lowest available rates:
Aerial photos:
In the first satellite image, you can see the Rialto Bridge in the upper left corner. The Hotel Rialto is just below the bridge, and the Piazza San Marco is near the bottom of the frame.

In the close-up photo, the Hotel Rialto is the dark rose-colored building just to the right of the bridge. (Note the waterbus platform near the edge of the picture.) The Rialto food markets are on the left, in the foreground.