---
---
Hotel San Moisè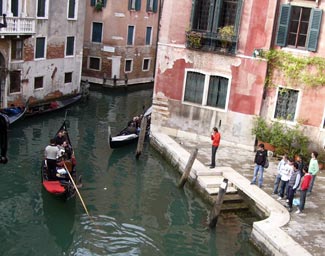 Category: Three-star hotel.
Location: Just west of the Piazza San Marco, next to the San Moisè Canal. Closest Alilaguna Airport Boat stop: San Marco.
Convenient when:
You want an affordable hotel with a romantic atmosphere near the Piazza San Marco and the Gran Teatro La Fenice, Venice's rebuilt opera house.

The Hotel San Moisè occupies a 16th Century palazzo with a stone-paved courtyard that looks like a movie set. Walk past the wellhead and up the stone staircase, and you'll find rooms that ooze with over-the-top Venetian decor. Some rooms have views of the San Moisè Canal, where "Gondola Serenade" tours cruise past the hotel (complete with accordions and crooning baritones) and disappear into the neighboring Rio delle Veste.
As you might guess if you read our illustrated in-depth review, we're fond of the Hotel San Moisè, and we think you're likely to enjoy it if you're looking for a comfortable and pleasant three-star hotel in the heart of the San Marco district.
Note: Rooms vary in size and location within the hotel. If you can afford it, spring for a "superior" or "luxury" room, which will offer more space and a better view than a "classic" or basic room.
Check lowest available rates:
Aerial photos:
In the first aerial image, the Hotel San Moisè is near the left side of the map, just to the left of the canal next to the words "Ramo Primo." The San Marco vaporetto and airport-boat platforms are to the south, on the waterfront, and the Piazza San Marco is the large trapezoidal area above the water.

In the second photo, the Hotel Moisè is the curved building in the foreground next to a canal, with a courtyard behind it. (The hotel entrance is in a narrow street just to the right of the canal intersection.) On the square at upper left, you can see the edge of the San Moisè Church's façade and--next to the water--the five-star Hotel Bauer. From this small campo, it's only a two- or three-minute walk to the Piazza San Marco.