---
---
Hotel San Salvador
Category: Two-star hotel.
Location: Just off the Campo San Bartolomeo, near the Rialto Bridge. Closest Alilaguna Airport Boat stop: Rialto.
Convenient when: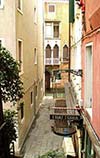 You want a central location near public transportation, and you're on a limited budget.
The Hotel San Salvador is tiny (only 10 rooms), but all rooms have private baths and air conditioning, and nightly rates are lower than you'd pay at most hotels in Venice's pricey San Marco district.
Please note: Unless indicated otherwise, rates don't include breakfast. Also, because the hotel is so small, it can be difficult to get a room unless you reserve well in advance. (If the Hotel San Salvador is fully booked, try the Hotel Bartolomeo, another two-star hotel off the Campo San Bartolomeo.)
Aerial photos:
In the top satellite image, the Hotel San Salvador is north of the San Salvador church and almost due east of the Rialto Bridge (which crosses the Grand Canal near the top of the frame). Near the bottom of the image, facing St. Mark's Basin, is the Piazza San Marco.

You can clearly see the Rialto Bridge and the Campo San Bartolomeo in the second photo. The Hotel San Salvador is in the Calle dei Gallazzo, to the right of the San Bartolomeo church at the bottom of the campo.