---
---
Best Western Premier Hotel Sant'Elena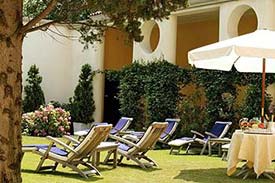 ABOVE: Deck chairs in the hotel garden. INSET BELOW: The Hotel Sant'Elena at night.
Category: Four-star hotel.
Location: In the Sant'Elena residential district, near the tip of Venice's historic center.
Convenient when:
You want a peaceful, quiet, and almost completely tourist-free location between the Piazza San Marco and the Lido's Adriatic beaches.

The Hotel Sant'Elena (officially the Best Western Premier Hotel Sant'Elena) is in a quiet neighborhood of apartment buildings and parks on the very edge of Venice's historic center. From the nearby Sant'Elena vaporetto landing, you can take a water bus to the Piazza San Marco area (3 stops) or the Lido (1 stop). Or you can follow the waterfront promenade to San Marco. The walk takes 20 to 30 minutes, and you'll pass the park of the Biennale modern-art exposition along the way.
The hotel has 76 rooms and suites. It's an especially good bet for families in the summer, since the hotel is child-friendly, parks are nearby, and you can reach the Lido in a few minutes by public boat.
Check lowest available rates:
Aerial photos:
The top satellite image shows the Piazza San Marco at left, the hotel's district at right (just left of the words "Isola di Sant'Elena), and--across a narrow strip of lagoon--the Lido di Venezia with its beaches facing the Adriatic Sea.

In the lower close-up photo, you can see the Sant'Elena vaporetto stop on the waterfront, next to the park. The Best Western Premier Hotel Sant'Elena is the yellow building with private lawns near the right side of the photo, alongside the Viale Piave.