---
---
Hotel Savoia & Jolanda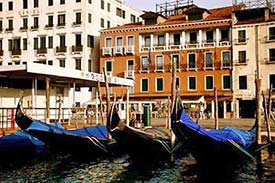 INSET BELOW: A view of the Riva degli Schiavoni from the hotel, and the Savoia & Jolanda's outdoor restaurant.
Category: Four-star hotel.
Location: On the Riva degli Schiavoni waterfront, just east of the Piazza San Marco. Closest Alilaguna Airport Boat stop: San Zaccaria.
Convenient when:

You're willing to pay four-star rates for a 51-room boutique hotel that faces St. Mark's Basin, directly across a wide pedestrian promenade from the Zaccaria airport-boat and vaporetto piers.

The Savoia & Jolanda is a traditional upscale Venetian hotel where rooms are likely to have wood-beamed ceilings, Murano glass light fixtures, and--if you've sprung for a deluxe room or junior suite--panoramic views of the Isola di San Giorgio Maggiore and the Venetian Lagoon.
Check lowest available rates:
Aerial photos:
In the upper satellite photo, the Savoia & Jolanda is about halfway between the Doge's Palace (left) and the canal on the right side of the frame. It's the red building that faces the second set of waterbus platforms.

In the lower close-up image, you can see the Hotel Savoia & Jolanda behind the words "Sestiere Castello." The hotel has a large covered restaurant-café on the promenade. (The five-star Hotel Danieli is immediately to the left of the Savoia & Jolanda.)