---
---
Hotel Villa Igea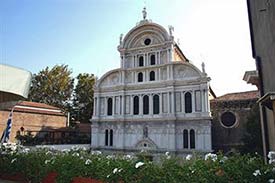 ABOVE: The San Zaccaria Church from the Hotel Villa Igea. INSET BELOW: The hotel's façade, and a costumed Carnival performer lurking in the doorway.
Category: Three-star hotel.
Location: On the Campo San Zaccaría, just east of the Piazza San Marco. Closest Alilaguna Airport Boat stop: San Zaccaria.
Convenient when:

You require a room near the Piazza San Marco, can't afford luxury rates, but are willing to pay a premium for a three-star hotel in prime tourist territory.

The Hotel Villa Igea is a cozy 19th Century building on the Campo San Zaccaria, a quiet little square with one of Venice's prettiest church façades. As a bonus, the hotel is only a short distance from the vaporetto and airport-boat pier at San Zaccaria, making it handy if you're arriving by air and plan to make extensive use of Venice's waterbus network.
Check lowest available rates:
Aerial photos:
In the first image, you can see a label for the San Zaccaria Church toward the right side of the frame, on the square behind the waterfront. The Hotel Villa Igea is across from (and slightly south of) the church. The Basilica di San Marco and the Doge's Palace are on the far left side of the picture.

The second photo shows the Riva degli Schiavoni promenade (left) and the San Zaccaria Church (right). The Hotel Villa Igea is the narrow tan building across the square from the church and a few doors to the left, with a tiny awning visible at ground level.