---

When will Venice and Italy reopen for travel?
---
Types of Venice Waterbus Stations
From: Venice Waterbus Stops
ACTV operates Venice's public waterbus stations, including many stops that also are used by Alilaguna airport boats. ACTV stations mostly fall into two categories:
---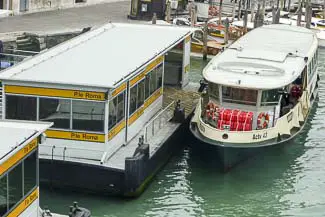 Traditional "pontile" (pontoon) stops
In the photo above, you'll see two pontili, or pontoons, at one of several vaporetto landings next to the Piazzale Roma (where Venice's airport buses and land taxis arrive). The floating platforms have benches inside where passengers can wait for water buses.
Most ACTV stops are like this one, with variations:
Stops may have one, two, or more pontili or floating platforms, each serving different routes or boats going in different directions. (Look for signs on the platforms and water buses.)

Some stops have ticket booths, ticket vending machines, or both, while others don't. Here's what to do if you arrive at a waterbus stop without a ticket or a pass such as the Tourist Travel Card.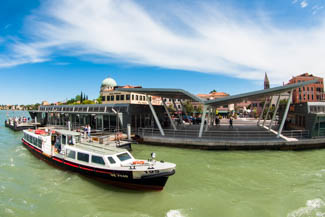 Large modern stations
At a few larger stops, such as San Marco Giardinetti, Lido Santa Maria Elisabetta (shown above), and the Pietá substation at San Zaccaria, ACTV has built large new stations with ticket offices, waiting rooms, and either traditional floating platforms or modern boarding piers.
How to board your water bus
1. Upon arriving at the ACTV stop or station, look for the number of the line you need. (Pontili or floating platforms are clearly marked, and you'll also see route timetables on the pier.) Be aware that:
At single-platform stations, boats will come from both directions. (For example, on the popular No. 1 vaporetto route, boats headed up the Grand Canal are usually marked "Lido," while boats headed down the Grand Canal are marked "Piazzale Roma.")

At multiple-platform stations, boats of the same line may depart from different platforms, depending on which direction they're headed. (Check the timetable near the platform to confirm that you've picked the right pontile.)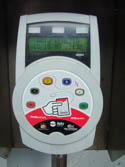 2. Look for an electronic ticket reader on the walkway leading to the floating platform or a the entrance to the waiting area.
3. Hold your ACTV waterbus ticket or Tourist Travel Card up to the electronic reader and wait for a "beep" and the flash of a green light. Keep your ticket or travel card handy in case inspectors are doing spot checks on the the water bus.
Note: As we mentioned above, smaller stops don't always have ticket booths or vending machines. If you need to board a water bus without a ticket, follow these instructions to avoid a fine.
Back to: Index of Venice ACTV and Alilaguna waterbus stops
---
---
---
---

| Europe for Visitors - Home |
| Contact information, disclosures, audience |

Copyright © 1996-2020 Durant and Cheryl Imboden. All rights reserved.