---

---
Discover Burano Walking Tour
Page 2
Continued from page 1
More tour photos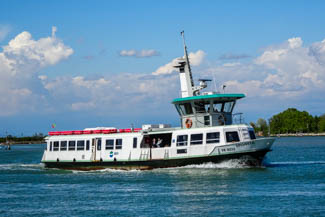 Our day started with a trip to Burano on the ACTV's No. 12 "Lagoon North" water bus from Venice's historic center, which left the Fondamente Nove stop at 10:10 a.m.
---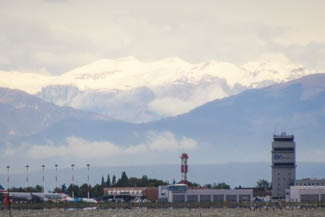 During the 41-minute trip, the boat passed Venice's Marco Polo Airport. As the clouds began to dissipate and the rain lifted, we could see the Italian Alps in the distance.
---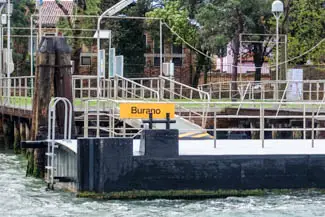 The rain had stopped by the time we reached Burano's ACTV waterbus station.

---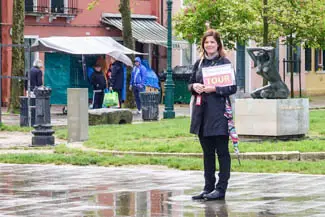 Silvia Zanella was waiting on shore, holding a Discover Burano tour sign.
---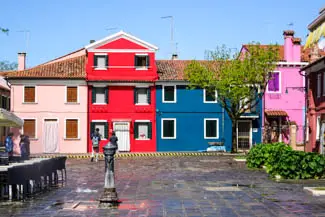 Houses near the pier showed off Burano's characteristic bold colors as the sun came out and illuminated the damp stucco.

---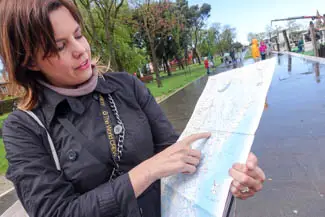 Our tour began with an overview of Burano, an island that's located in the northern part of the Venetian Lagoon.

---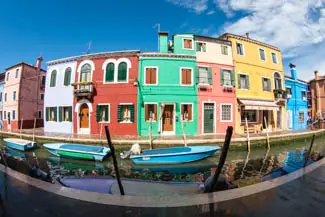 As we walked inland, Silvia Zanella told us about Burano's colored houses, when the color scheme came into being, and what rules or customs govern a homeowner's choice of colors.

---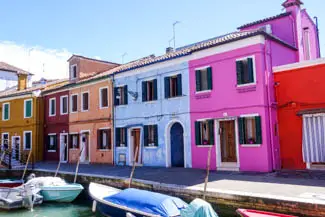 She also described the typical layout of a Burano house and what steps are taken to prevent damage from acqua alta (tidal flooding) and other sources of moisture.

---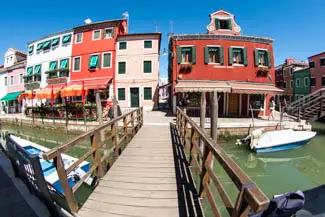 During the walking tour, we crossed a number of footbridges, including this wheelchair- and stroller-friendly bridge. (See the Comune di Venezia's Accessible Venice: Burano - Torcello map for an overview of the island's accessibility.)
---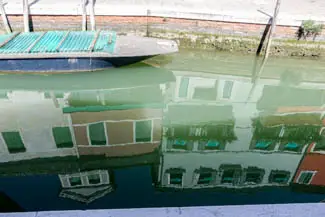 We also enjoyed a moment of reflection on a Burano canal.

---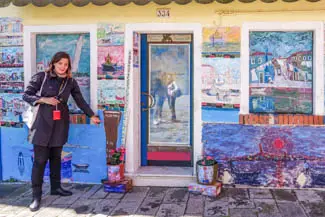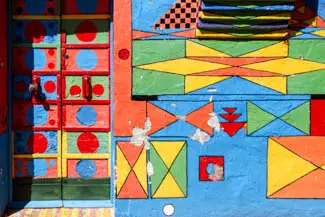 Silvia told us the stories behind several houses that didn't fit the typical Burano decorating scheme--including a house painted with a late artist's scenes and another with a geometric motif.

---
We took an obligatory photo of hanging laundry near a Venetian-style wellhead. (Burano's water is now pumped from an acquifer beneath the Lagoon, but--as in Venice--the island is dotted with stone wellheads from a time when rainwater was filtered through gravel and stored in cisterns beneath the pavement.)

---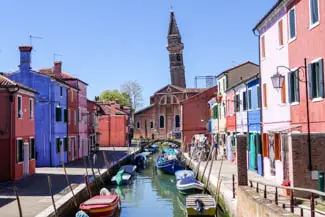 Silvia led us to other landmarks on Burano, including the Church of San Martino with its leaning campanile or bell tower.
---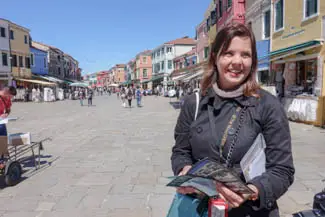 When the tour ended, we said good-bye to Silvia in Burano's business district. (She gave us pointers on restaurants and where to shop for the famous Burano Lace.)
Our tour had run beyond the allotted time--probably because we asked so many questions--but that was fine with us.
---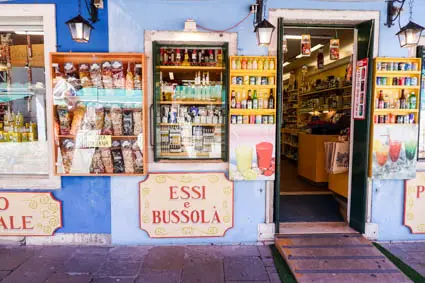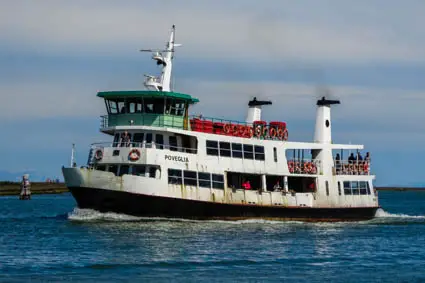 After exploring Burano's shops on our own, we returned to Venice on an ACTV motonave, the Poveglia, which stopped at several large waterbus stations (including the Lido) on its way back to Zaccaria (Pier "A", Pietà) near Venice's Piazza San Marco.

Back to: Discover Burano Walking Tour
---
---
---
---

---
---

| Europe for Visitors - Home |
| Contact information, disclosures, audience |

Copyright © 1996-2018 Durant and Cheryl Imboden. All rights reserved.