---
Walking in Venice
Page 3
Continued from Page 2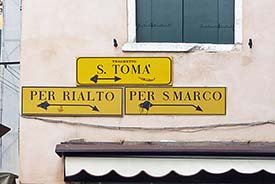 ABOVE: Official signs point to the San Tomà traghetto stop, the Rialto Bridge, and the Piazza San Marco--but if you look carefully, you'll notice that the left-pointing arrows were added by vandals.
Directional signs

Official directional signs--normally yellow, but sometimes white--are easy to find if you look up at buildings as you walk down streets or wander around campi (squares).

These signs point to such major destinations as San Marco, Rialto, Accademia, Ferrovia (the railroad station), and Piazzale Roma (the transportation hub where you can catch airport buses, taxis, or the People Mover to the Tronchetto parking garage and the Marritima cruise terminal.)

Other signs direct you to vaporetto stops or traghetto piers (where you can catch inexpensive gondola ferries across the Grand Canal).

In addition to official signs, you'll see many homemade signs that shopkeepers and residents have painted or tacked up on buildings to help lost tourists.
Don't obsess about plotting a route from point A to points B, C, and D: Just follow the arrows to the section of town that you're trying to reach. You can look at your map again when you're closer to our final destination.

Tip: Sometimes, a sign may have arrows in two directions. This simply means that you can get to the destination by parallel routes. (But watch out for the occasional yellow sign that's been tampered with: An extra arrowhead may be legitimate, but it could be a prank to confuse tourists. When in doubt, ignore add-ons.)
Next page: Signs in streets and squares
---
---
---

| Europe for Visitors - Home |
| Contact information, disclosures, audience |

Copyright © 1996-2019 Durant and Cheryl Imboden. All rights reserved.