---
Hotel Santa Chiara
This 3-star hotel on the Piazzale Roma, near airport ground transportation and the People Mover tram to the Marittima cruise terminals, is a great option if you're in Venice for only a short time and have bulky luggage in tow.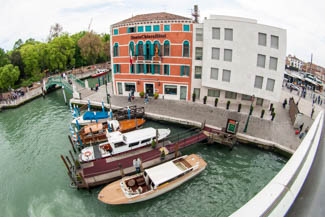 ABOVE: The Hotel Santa Chiara is on the edge of Venice's Piazzale Roma, next to the Grand Canal. (This photo was taken from the Calatrava Bridge, which connects with the railroad station.)
---
Venice has hundreds of hotels in all categories and price ranges, but only two are directly on the Piazzale Roma (where you'll arrive if you come to Venice by airport bus, land taxi, or the People Mover tram from the Marittima cruise piers). The two hotels are Ca' Doge, a six-room B&B across from the People Mover station, and the Hotel Santa Chiara, an ISO 9001-certified three-star hotel alongside the Grand Canal.
Both hotels are justifably popular, but the Hotel Santa Chiara has a more appealing location and a wider selection of rooms (23 superior and standard rooms in a converted 500-year-old monastery, 19 deluxe rooms in a new addition, and 12 rooms in the Residenza Parisi annex 100 meters away).
From the Hotel Santa Chiara, you can easily reach airport ground transportation and the People Mover tram to Marittima and the Tronchetto parking garage without crossing any footbridges. Just as important, it's only a very short walk to a low stone bridge that will take you across the Grand Canal and into Venice's historic center.
Tip:

To reach the hotel's entrance from the Piazzale Roma, walk to the ACTV ticket office (a brick building with a tile roof on the edge of the Piazzale Roma, not far from the airport buses). You'll find a ramp alongside. To avoid the steps, roll your luggage down the ramp toward the ACTV waterbus pier, turn right, and walk a few meters past the glass-walled Calatrava Bridge to the hotel: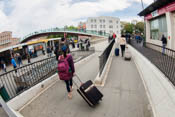 For more information, see:
Booking.com: Hotel Santa Chiara our partner
Europe's No. 1 secure reservations service offers guaranteed lowest rates, free cancellation, reviews by paying guests, and more.
Walking Directions: Hotel Santa Chiara veniceforvisitors.com
Our directions page includes a map that shows the location of the hotel, airport buses, the People Mover station, etc.
---
---
---

| Europe for Visitors - Home |
| Contact information, disclosures, audience |

Copyright © 1996-2019 Durant and Cheryl Imboden. All rights reserved.