'Keep Calm Point' Luggage Deposit
A handy, affordable alternative to the Venice railroad station's deposito bagagli office.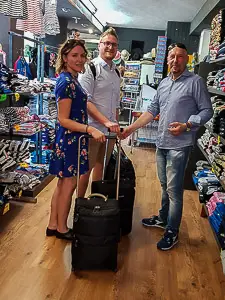 ABOVE: Nicola (on right) offers secure luggage storage at his Keep Calm Point shop by the railroad station. For a discount, show him our site on your smartphone or tablet.
The Deposito Bagagli office in Venice's Santa Lucia Railway station is convenient if you need to store a suitcase for the day, but waiting lines can be horrendous in the summer or on busy weekends. To avoid the crowds--and to save money on left luggage--head for the privately-owned Keep Calm Point storefront next door.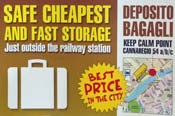 Keep Calm Point is primarily a shop that sells souvenirs, drinks, and other items for visitors. However, it also provides baggage storage at rates that are cheaper than what you'd pay at the railroad station--and because most visitors don't know about it, you can drop off or pick up your bags without waiting in a long line.
Here's how to find and use Keep Calm Point:
---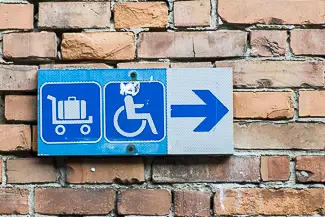 Do not exit through the crowded station lobby. Instead, use the archway just beyond Track 1, on the left side of the station as you leave the platforms. This will lead you to a gentle paved ramp that is friendly to wheeled luggage, strollers, and wheelchairs.
---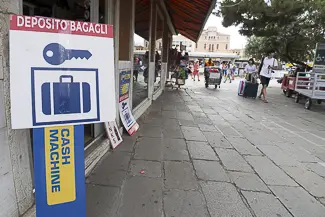 As you near the bottom of the sloping path, you'll see a sign for "Deposito Bagagli" on your left, outside a storefront on the station square. Go inside.
---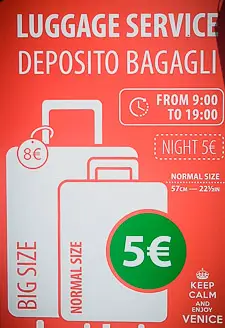 Rates for storing luggage at Keep Calm Point are slightly lower than in the railroad station's baggage office. More important, you'll avoid standing in a long line. (Note that a "normal size" bag is anything up to 57 cm or 22½ inches in height, including wheels and folded handle.)
Save even more money! Nicola will give you a discount on his published rates if you show him our site on your smartphone or tablet. Nicola tells us that many visitors have taken advantage of this offer, so don't be shy!
---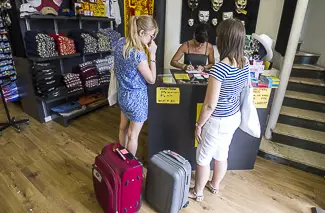 Checking your luggage is easy: Just drop off your bags at the cashier's desk inside the shop's entrance, where you'll be given a receipt.
Nicola, the owner, will take your bags upstairs to the storage area and bring them down when you come to collect them.
---
Also worth a look: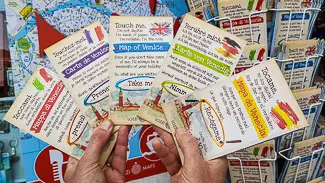 Keep Calm Point now offers an attractive tourist map at a reasonable price. The map (which was developed exclusively for the store) is available in five languages: Italian, French, English, German, and Spanish.
---
"Selfie in Venice" discount:
This offer may be of interest if you've bought Keep Calm Point's Venice tourist map: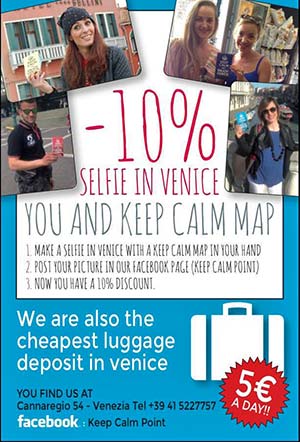 ---
Please note:
The shop's hours are 9 a.m. to 7 p.m. daily.

We aren't being paid to promote Keep Calm Point. We just think it's a useful service for travelers, especially during peak season.
Updated May, 2018
---
---
---

---
---

| Europe for Visitors - Home |
| Contact information, disclosures, audience |

Copyright © 1996-2018 Durant and Cheryl Imboden. All rights reserved.