---

---
Parking in Venice
Page 2
Continued from page 1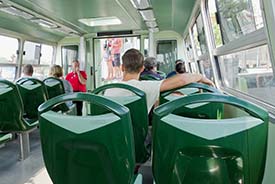 ABOVE: The number 21 water bus runs between Parcheggi San Giuliano and Venice's historic center.
More parking information at Venice for Visitors
Tronchetto Parking Garage
This artificial island next to Venice's historic center has a 3,500-car garage, open-air parking for campers and coaches, public toilets, luggage storage, and other services. (To reach it, follow the Tronchetto signs as you approach Venice on the causeway from the mainland.)
San Giuliano Parking (Mestre)
Parcheggi San Giuliano's outdoor lots are far cheaper (but much less convenient) than parking in the city center if you're just visiting Venice for the day. They're located within a public park in Mestre, on the Venetian mainland.
Web links for garages and parking lots
Venice
ASM Venezia
Azienda Servizi Mobilità S.p.A. operates parking lots, rideshare programs, bicycle paths, and other transportation-related services in Venice and Mestre. In Venice, it runs the Autorimessa Comunale, a municpal parking garage in the Piazzale Roma with room for 2,182 cars and 180 motorcycles.
Garage San Marco
If you're set on parking in Venice's Piazzale Roma and can't get a space in the Autorimessa Comunale, try the Garage San Marco--but expect to pay handsomely to park your car or motorcycle in one of its 900 spaces. You can prebook online. (Note: The Piazzale Roma also has several smaller private garages, but they don't have Web sites.)
Venezia Terminal Passeggeri (Marittima)
The Venice cruise port's Web site has a car park booking form and a map that shows terminal locations. (Parking lots are labeled P1, P2, P3, P4, P5, and P6.)
Mestre
ASM Venezia
The Azienda has three affordable car parks in downtown Mestre, plus the Parcheggi San Giuliano (see top of page). The handiest downtown lot is on Via Ca' Marcello, which is about 550 meters from the train station. You may have trouble finding a spot, though, because 70 of its 100 spaces are reserved for contract parking.
Parcheggio Gregory
This private car park by the train station in downtown Mestre is more expensive than the ASM outdoor lots, but it's still cheaper than Tronchetto or the garages in the Piazzale Roma. You can reserve a parking space online.
Parking Saba Italy: Venice Mestre Station
Rates are about what you'd pay for hotel parking at this 1,350-space facility, which is across the street from Mestre's railroad station.
Tessera (Airport)
Marco Polo Park
If you park at Venice's Marco Polo Airport, you can use frequent airport buses or airport boats to reach the centro storico. Rates are reasonable by Venice standards, though you'll want to park long enough to amortize the cost of public transportation to and from the city.
Other mainland locations
Terminal Fusina
Fusina is a ferry terminal on the mainland, south of Mestre with good road connections to the A4 Autostrada or motorway. Its outdoor lot has room for 1,500 cars and 300 coaches. From June to September, a water bus runs between Fusina and the Zattere in central Venice. The boat trip takes about 45 minutes and costs only a few euros if you have a parking ticket. (Another boat line runs to the Lido di Venezia's Alberoni Beach.)
CT Servizi - Parking
These outdoor lots are on the Literale di Cavallino-Treporti, a fingerlike extension of the mainland that encloses the northern part of the Venetian Lagoon. ACTV, Venice's transportation authority, operates frequent water buses from Punta Sabbioni and Treporti. Chances are, you won't be using any of these lots unless you're staying at a beach resort and taking occasional day trips to Venice.
ACI Venice Tourist: Parking
This company has space for 400 cars and 100 tourist buses at Punta Sabbioni. Unfortunately, you'll need to use an e-form to request information on parking rates and boat connections.
Back to: Parking in Venice - Introduction
---
---
---

---
---

| Europe for Visitors - Home |
| Contact information, disclosures, audience |

Copyright © 1996-2018 Durant and Cheryl Imboden. All rights reserved.