---
St. Mark's Basin by the Numbers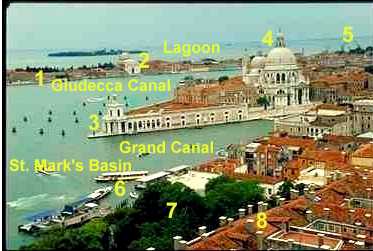 Climb to the top of the Campanile di San Marco, and you'll get a great view across the water. Here, the Grand Canal and the Giudecca Canal merge into St. Mark's Basin. Our photo above will help you identify some of the major landmarks within viewing or boating distance of the Bacino di San Marco:
1. La Giudecca. This island was settled later than the urban core of Venice. It was dotted by vacation homes of the wealthy, monasteries, orchards, and farms until, in the 19th Century, it evolved into a working-class residential and factory district. You'll stay here if you're booked into the fashionable and expensive Hotel Cipriani or, at the other end of the price range, the Generator Hostel.
2. Il Redentore. Palladio's great church celebrates the deliverance of Venice from a plague in 1577. Today, more than 400 years later, the church is still the focus of a quasi-religious celebration that ends with a barrage of fireworks.
3. Dogana di Mare. Ships used to stop at this customs house to declare their cargos and pay duties to the Venetian Republic.
4. Santa Maria della Salute. Like the Redentore, this massive 17th Century Church was built to thank God for ending a plague epidemic.
5. Stazione Marittima. Cruise ships and car/passenger ferries load and unload at the these docks near the junction of the Canale della Giudecca and the Canale di Fusina.
6. San Marco vaporetto platforms. See our "San Marco by the numbers" article for details on these waterbus stations.
7. Giardini ex Reali. The city's former royal gardens open onto the waterfront through an iron gate. Until a few years ago, you'd often see dozens of stray cats taking their leisure on the paths and park benches. (Today, the cats are living in a shelter on the Lido.)
8. Procuratie Nuove. St. Mark's Square (a.k.a. the Piazza San Marco) lies in front of this building, just below the area shown by the photo.
Related articles:
San Marco by the numbers
Use the figures in the photo to identify the major landmarks around St. Mark's Square.
The Venetian Lagoon
Venice isn't just palaces, churches, and art museums. The city sits in the middle of a lagoon that is rich in wildlife and tradition.
Santa Maria della Salute Church
As you stare up at the soaring dome of this magnificent basilica, remember that it owes its existence to plague-ridden fleas.
Dogana di Mare
Venice's maritime customs house was built in the 17th Century. Its wedge-shaped promenade offers great views across the Grand Canal and St. Mark's Basin.
Campanile di San Marco
Venice's 325-foot bell tower isn't what it appears to be, but the view from the top is unsurpassed.
---
---
---

| Europe for Visitors - Home |
| Contact information, disclosures, audience |

Copyright © 1996-2019 Durant and Cheryl Imboden. All rights reserved.