---
Trenitalia Regional Ticket Machines
Archived article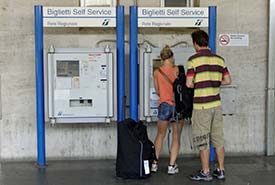 ABOVE: Self-service regional ticket machines in the Venezia Mestre station. TOP INSET PHOTO: Tickets from regional machines are smaller than standard Italian railroad tickets (which look like airline boarding passes).
---
Update:

In the past few years, Italian railroad stations have been replacing these old regional ticket machines with newer ticket machines. (In Venice's Santa Lucia Railroad Station, for example, you'll now buy your regional tickets from the modern Trenitalia ticket machines that accept credit cards.)
---

In larger Italian railroad stations, you'll normally find two types of ticket machines:
Regional "biglietti self service" machines, such as the ones in the photo at the top of this page. These are relatively simple devices that dispense local or regional tickets and accept cash only.

Trenitalia "biglietto veloce" or "fast ticket" machines, which are larger, dispense tickets for stations throughout Italy, and accept coins, banknotes, or credit cards.

In an article at Rome for Visitors, we discuss how to buy tickets with Trenitalia "biglietto veloce" machines. Here, we'll describe the regional "biglietti self service" machines, which are simpler to use and are more convenient if you're just catching a train between Venice and a city or town nearby:
Step 1: Select a language on the display screen. Regional ticket machines used to be programmed only in Italian, but recently we've encountered machines with an English-language option.

Step 2: Look for a quick-purchase option in the upper left corner of the screen. This can save you a step or two: for example, in Venice or Mestre, you should see an option for a local ticket.

Step 3: Choose how many tickets you need, and whether you want one-way or return tickets. (Most regional trains are second-class only, so don't buy a first-class ticket if you see that option.)

Step 4: When prompted, feed coins or banknotes into the machine. (Some machines won't give more than €9 in change, so it's a good idea to have a pocketful of coins or banknotes of €5 or €10 if you're buying only a few tickets.)

Step 5: Remove your tickets and change from the slot at the bottom of the machine.
Tips: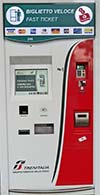 If you're traveling to a mainland town such as Treviso or Vicenza and you want to know which trains will take you there, look for a Trenitalia "biglietto veloce" machine--even if you've already purchased your ticket. Go through the preliminary steps of buying a ticket, entering your destination and desired date-and-time range at the prompts. The machine will display departure times, train numbers, and other useful information that you can write down to help you find the right departure platform.
Before boarding the train, validate your ticket with a scanner on or near the station platform. This is very important, because your ticket isn't valid unless it's stamped.
---
---
---

| Europe for Visitors - Home |
| Contact information, disclosures, audience |

Copyright © 1996-2019 Durant and Cheryl Imboden. All rights reserved.