---

---
Tronchetto Parking Garage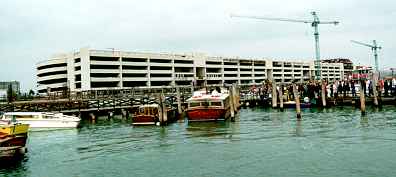 ABOVE: Venice's massive parking garage on the artificial island of Tronchetto.
Driving to Venice is like going to a shopping mall: When you get there, you'll need to park your car until it's time to leave.
During high season, you may want to consider parking on the mainland--either at a hotel near the railroad station in Mestre (where trains depart frequently for Venice) or at San Giuliano next to the Venetian Lagoon (where you can catch a boat into the city). This way, you'll avoid the traffic jams that clog the several kilometers of roadway between the mainland and the Piazzale Roma in Venice.

If you'd rather not stay or park on the mainland, the Tronchetto parking garage offers the best balance between convenience and economy.
The vast garage is built on an artificial island, and it's more likely to have empty parking spaces than the more centrally located (and considerably more expensive) public and private garages at the Piazzale Roma. Tronchetto is also the only place to park in Venice if you're driving a large camper or motorhome.
Driving to Tronchetto

From the mainland, take the causeway toward Venice. Stay in the right lane. Just before you reach the city, you'll see an exit labeled "Tronchetto." Take this exit road to Tronchetto, then follow the signs for the garage and parking lots. (See our Tronchetto satellite photo map).
Parking fees and reservations

Expect to pay a daily rate of at least €21 for parking in the main garage, or even more if you want secure "VIP parking." Buses, campers, and vans park in open lots, with considerably higher rates.
These rates may sound outrageous if you aren't used to big-city parking costs, but Tronchetto is considerably cheaper than the garages in the Piazzale Roma.
Note:
You pay for parking before going to your car, using the automated cashier machines (which accept banknotes, coins, and credit cards). Keep your receipt, which you'll need to exit the garage.

If you're arriving on a weekend or in high season, we suggest reserving a parking space in advance. Use the "bookings" e-form at Tronchetto's official Web site (see the links on page 3).
Important:
Ignore the touts who may try to flag you down as you enter the parking island. (They're just trying to drum up business for expensive--and unofficial--water taxis.)

Lock your car and take your keys with you after you've parked. (Contrary to rumor, you are not required to leave keys in your car; that's true only at the Garage San Marco in the Piazzale Roma.)
Amenities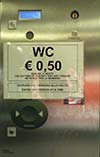 Tronchetto has modern WCs and diaper-changing facilities in the huge new garage, directly across from the office. You'll need a 50-cent coin to enter the toilets.

The garage office provides a deposito bagagli or baggage-check service, which may be convenient if you're worried about items being stolen from your car.

On your way to the vaporetto stop, you'll see a plethora of junky souvenir stalls that cater to the tour-bus crowds. Unless you have an urgent need for a plastic Carnival mask made in China, we suggest ignoring the souvenir stands and continuing to the vaporetto or the new People Mover.
Next page: Reaching the city center from Tronchetto
---
---
---
---
---

---
---

| Europe for Visitors - Home |
| Contact information, disclosures, audience |

Copyright © 1996-2018 Durant and Cheryl Imboden. All rights reserved.