---
Venice Airport Hotels
Page 2
Continued from page 1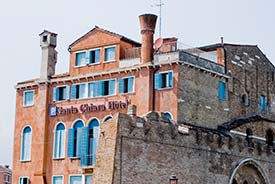 ABOVE: Venice airport buses and land taxis arrive and depart near the four-star Hotel Santa Chiara, which is alongside the Piazzale Roma overlooking the Grand Canal.
---
---
Hotels near the Piazzale Roma
These hotels are very handy for early departures by bus or taxi.
Hotel Antiche Figure (3 stars) overlooks the Grand Canal and has a top rating among guests who have booked through Venere. Singles, doubles, and triples are available.

Hotel Santa Chiara (4 stars, photo at top of page) is next to the Grand Canal, by the Piazzale Roma and the Calatrava Bridge. It has a private parking lot, which may be convenient if you arrived with a rental car. The Santa Chiara even has an ISO 9001 quality-management certification.

Hotel Olimpia (3 stars, photo at right) is over a small bridge from the Piazzale Roma. This hotel has a private garden with beach umbrellas and deck chairs.
Ca' Doge has a "town house suites, 1st category" rating, which makes it comparable to a 3-star hotel. The Ca' Doge is fully air-conditioned, offers free high-speed Internet access, and (unusually for Venice) has parking on the premises for a daily fee.
Try these hotels if you're traveling light or don't mind bouncing your luggage up and down the steps of a few bridges:
Hotel Airone (2 stars) has single and double rooms, some facing the Grand Canal. To reach it from the Piazzale Roma, head down the steps toward the water, turn right, and walk along the fondamenta or promenade.

Alloggi Marinella (3 stars) has high guest ratings from users--including us--and it's located on a quiet, tree-lined street with an open-air café nearby. The hotel is only a block from the Piazzale Roma, away from the buses and the boats but close enough to be acceptable if you're wrestling with luggage. (The railroad station is about five minutes beyond the Piazzala Roma.)
The Alloggi Marinella has a garden where you can sit and relax in good weather. Our advice: Splurge for a superior room in the section by the canal, where--if you're lucky--you'll have a private patio.

Hotel Arlecchino (3 stars, photo at right) is across one small footbridge from the Piazzale Roma on the Fondamenta delle Burchielle. It has rooms for one to four guests, the entire hotel is air-conditioned, and you'll appreciate the lift if you're traveling with heavy luggage. (The staff were friendly and helpful, and our room had a great canal view during a recent stay.)


Hotel Canal & Walter (3 stars) has single to quad rooms, some of which face the Grand Canal. It also has a private courtyard and garden (a rarity among Venice hotels) where breakfast is served in warm weather.
Hotel Gardena (3 stars) is only about three minutes from the Piazzale Roma, with two low footbridges to cross. The hotel has a garden where breakfast is served in good weather, and the fondamenta along the Tolentini Canal is especially pleasant on sunny days (when you're likely to see students from Venice's university of architecture talking in cafés and bars).

Hotel Papadopoli Venezia (4 stars) is affiliated with France's Sofitel group. The Papadopoli is a good choice if you're looking for an upscale hotel with a concierge, restaurant, bar, and other services. It's located right behind the public gardens next to the Piazzale Roma. (The bridge that leads to it has a gentle incline, making it easy to negotiate with luggage.)

Hotel Abbazia (3 stars) in is a side street close to the railroad station, across the rollerbag-friendly Calatrava Bridge from the Piazzale Roma. It's a converted monastery with a pulpit in the former refectory (now the breakfast room). Some rooms overlook the large garden where breakfast is served in good weather.

If you're willing to head slightly farther afield, you could book at Alloggi Al Gallo, the 15th Century Al Sole (3 stars), the Carlton on the Grand Canal (4 stars, photo at right), Palazzo Odoni (3 stars--and yes, it's a real family-owned palazzo), or the popular 2-star Falier. (The Falier is a 10-minute walk from the Piazzale Roma, but it's close to one of the liveliest squares in Venice, the Campo Santa Margherita. The Frari church is also nearby.)
We've saved three of the best hotels for last. You'll need to cross two small bridges and walk about 10 minutes to reach them, but you'll love their peaceful setting on a quiet little square next to the Grand Canal.
The trio includes the 3-star Ai Due Fanali (which has a rooftop breakfast room and lounge), the 4-star Ca' Nigra Lagoon Resort with its lovely gardens overlooking the water, and the Canal Grande (4 stars), which has several rooms facing the Grand Canal.
Apartments near Piazzale Roma:
If you prefer self-catering flats to hotels and restaurants, a vacation apartment is worth considering. Several are extremely close to Piazzalr Roma with its airport buses and land taxis:
Next page: Hotels near San Marco Giardinetti
---
---
---

---
---

| Europe for Visitors - Home |
| Contact information, disclosures, audience |

Copyright © 1996-2018 Durant and Cheryl Imboden. All rights reserved.