---

No. 1 Venice hotel warning!
---
Venice Cruise Port Transportation
Page 2
Continued from page 1
By land: Airport buses and taxis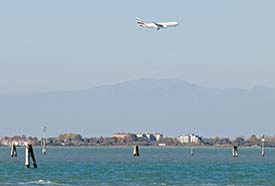 ABOVE: A jet landing at Venice's Marco Polo Airport makes its final approach over the Venetian Lagoon.
Buses from Venice's Marco Polo Airport

Inexpensive land buses connect Marco Polo Airport to the Piazzale Roma, where the causeway from the mainland ends at the edge of Venice's historic center. Travel time is about 20 minutes.
The most comfortable buses are the blue or grey-green ATVO coaches, which have luggage space underneath. ACTV city buses (route no. 5) are even cheaper, but they don't have room for luggage and are likely to be crowded with local commuters.
For more information on both lines, see our Venice Airport Buses article.
Important: Once you reach the Piazzale Roma, you'll need to get from there to the cruise terminal. Here are your options:
Catch a free shuttle bus to the pier if one is available. The Port of Venice often runs shuttles at half-hour intervals from disembarkation of the previous cruise's passengers until boarding of new passengers is complete. These are coaches with luggage compartments at ground level, and the name of the ship is in the front window of the bus.

Ask your cruise line if a shuttle will be available, or have your travel agent check with the cruise line. (Note: The shuttle service isn't always reliable, so it's a good idea to have a backup plan.)

If no shuttle bus is available and your ship is sailing from either Marittima or San Basilio, consider hiring a land taxi for the short drive to the pier.
If no shuttle bus is available, your ship is sailing from Marittima, and you don't mind walking a few minutes from the port entrance to your ship, the new Venice People Mover is a quick, comfortable, and inexpensive option.

As a last resort, catch the ACTV's 6/ public-transit bus toward the parking island of Tronchetto from stop C3 in the Piazzale Roma. Buy a ticket at a newsstand or the Hellovenezia/ACTV office in the Piazzale Roma, and remember to stamp your ticket as soon as you board the bus.

If no shuttle bus is available, you're departing from San Basilio, and you don't want to hire a land taxi, walk down to the vaporetto platforms and catch an ACTV water bus to the S. Basilio stop. (Take a route 2 or 6 boat, and be prepared to pay a separate fare for your luggage if you're traveling with more than one reasonable-size bag and a small carry-on. See our Venice Vaporetto Fares article for prices.)
Buses from Treviso Airport
If you're flying into Venice on Ryanair, Transavia, or another low-cost carrier other than EasyJet, you'll probably arrive at Treviso Airport, which is about 25 km or 16 miles from Venice. ATVO and Barzi Bus run special airport coaches to Venice's Piazzale Roma for arriving and departing flights; see our Treviso Airport Buses article for links to timetables.
Once you've reached the Piazzale Roma, follow the bulleted suggestions above.
Taxis

A land taxi from Venice's Marco Polo Airport to either the Marittima terminal or the San Basilio terminal should cost €50 or less, depending on traffic. To be safe, allow at least 30 minutes for the trip. (If you take the airport bus to the Piazzale Roma and catch a taxi there, the taxi fare will be much cheaper.)
From Mestre, a taxi ride should take 10 to 20 minutes and cost €40 or less, depending on your hotel's location and traffic. (See our Venice Travel Blog post about Mestre for Cruise Passengers.)
From Treviso Airport, catch the ATVO bus to Venice's Piazzale Roma and hire a taxi for the short drive to the cruise terminal.
Trains

The Comune di Venezia has two main railroad stations: Venezia Santa Lucia station ("Ferrovia" on vaporetto maps) in the historic center, and Venezia Mestre on the mainland. Which station should you use? That depends:
If you're traveling with heavy luggage or want to reach your ship with a minimum of fuss, get off the train at Venezia Mestre and take a taxi to either the Marittima or the San Basilio basin. The distance is only a few kilometers, so the fare won't be excessive.

If you want to save the price of a cab from Mestre, take the train to Venezia Santa Lucia. Turn right as you leave the station, walk along the waterfront for two or three minutes until you reach the new Calatrava Bridge (a.k.a. the Ponte della Constituzione), and cross the bridge to the Piazzale Roma. There, you can:
Catch a free shuttle bus to your ship, assuming that one is available;

Take the Venice People Mover to the Marittima basin (the ride takes a minute or so and is cheap);

Hire a taxi for the short ride to either the Marittima or San Basilio basin; or...

Take the No. 2 vaporetto to San Basilio if your ship is leaving from that terminal.
By car. The Venezia Terminal Passeggeri Web site has directions, road maps, and other information, including a booking page for parking at the Marittima cruise basin.
Next page: By water: Airport boats and water taxis
---
---
---
---

| Europe for Visitors - Home |
| Contact information, disclosures, audience |

Copyright © 1996-2020 Durant and Cheryl Imboden. All rights reserved.