---
Venice Cruise Terminal Hotels
Page 2
Continued from page 1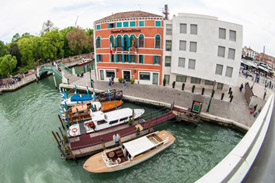 ABOVE: The Hotel Santa Chiara's location is hard to beat if you're burdened with heavy luggage: It's alongside the Piazzale Roma, where you can catch a shuttle bus or taxi to your ship.
Hotels near Piazzale Roma (for Marittima piers)
Several hotels are in the immediate vicinity of the Piazzale Roma, central Venice's closest point to the main cruise basin, Marittima. From Piazzale Roma, you can reach Marittima on the inexpensive People Mover, by land taxi, or--quite often--by free shuttle buses that go directly to your ship.
Important: Rooms at hotels on or near the Piazzale Roma can be hard to get during the cruise season, so it's best to reserve early if you can. (As long as you aren't making a non-refundable prepaid booking, you can always cancel later on if you change your mind.)
These three hotels are directly on the Piazzale Roma, which means you won't have to cross any bridges with heavy luggage.
(Downside: The Piazzale Roma is a busy square with taxis and buses, so you might want to consider one of the other hotels on this page if you want authentic Venetian atmosphere and don't mind a low bridge or two.)
Hotel Santa Chiara (4 stars) is an ISO 9001-certified hotel on the edge of the Piazzale Roma, next to the Grand Canal and the Calatrava Bridge to the railroad station. Superior rooms have canal views, while some of the cheaper rooms are at the Residenza Parisi (near the Piazzale Roma vaporetto stop). Wi-Fi is free throughout the hotel. Check guaranteed lowest rates, reviews, and availability:


The following hotels are just beyond the Piazzale Roma over small footbridges:







Other hotels within walking distance of the Piazzale Roma:

If you prefer to be a little more distant from the buses, boats, and bustle of the Piazzale Roma, you could try Al Sole (3 stars), the Carlton on the Grand Canal (4 stars), or a Venetian mansion that doubles as a boutique hotel, the Palazzo Odoni (3 stars, photo at right). Please note that the term "distant" is relative: All of these hotels are within a five- to 10-minute walk of the Piazzale Roma, depending on your speed.

Or you could book a room at the Falier (2 stars), which is handy to one of the liveliest squares in Venice, the Campo Santa Margherita. It's an appealing choice if you're traveling with nothing larger than a midsized wheeled suitcase.
Note: These four hotels are about a 5-minute walk from the Piazzale Roma if you don't stop to read your map.
For a charming and delightful location:

If you're willing to walk 7 to 10 minutes and cross two small footbridges, you won't go wrong with the cozy Ai Due Fanali (see our illustrated review), the Ca' Nigra Lagoon Resort with its huge garden, or the Canal Grande. All three hotels are on the Campo San Simeon Grande, a lovely and peaceful little square where you can sit on a park bench and watch boat traffic on the Grand Canal.
Apartments near cruise ships:
If you'd like to settle in for a few days before or after a cruise, or if you prefer self-catering flats to hotels and restaurants, a vacation apartment is worth considering. Several are extremely close to the Piazzale Roma and the People Mover to the Marittima cruise terminals:
Next page: Hotels near Piazza San Marco (for Marittima piers)
---
---
---
---

| Europe for Visitors - Home |
| Contact information, disclosures, audience |

Copyright © 1996-2019 Durant and Cheryl Imboden. All rights reserved.